Local artist Donna Burgess has been sharing her art with us for over 30 years. She started in a cottage in Seaside, before it was a well-known tourist attraction.  As South Walton grew in popularity, so did Burgess and her art. She is regarded as a cardinal artist of our beloved area.  You can now find her at Grand Boulevard at the Donna Burgess Gallery.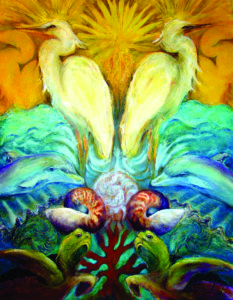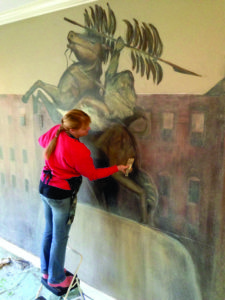 For those who know South Walton, know we love festivals.  Donna has showcased her art at the Destin Seafood Festival, the Destin Fishing Rodeo, the Mullet Festival in Niceville, Autumn Tides, and the Coconut Grove Festival in Miami. She has provided art for the Sandestin Wine Festival since its inception. "Sandestin feels like my family," she says, and although she doesn't have much time for festivals these days, she still provides art for the Sandestin Wine Festival, which has been named the "best event" in the area.
Burgess, a self-taught artist, is color prolific. She works with watercolors and acrylics, with subjects ranging from coastal, including turtles, beaches, shells and marine life, to portraits of people, families and dogs. She is currently working on developing some abstract pieces. "I want my style to be evolving," she said. "I'm working on my evolving style now to stay with the subjects of the area, but to get to a point where I paint more of the feeling, than the image."
In addition to being a well renowned artist, Burgess is also a philanthropist, supporting several national and local charities. "I didn't study art. Art was a gift to me," said Burgess. "I feel like it's such a gift to me, and I'm so fortunate to do something I love for a living; the concept of returning the favor and giving back comes naturally."
In recent years, Donna painted a watercolor of a mother embracing a child titled, "The Embrace," for a campaign raising support and awareness against child abuse.  In the aftermath of Hurricane Katrina, Burgess dedicated a piece to those we lost and the rescuers, with proceeds being donated to local shelters housing evacuees from the Gulf Coast. After 9/11, Burgess raised money for the New York Police and Fire Widows' and Children's Benefit Fund,
Animals are also dear to Burgess. Her dog portraits are very popular, and she has been nicknamed the "Dog Whisperer," because she can capture their soul through their eyes. Burgess painted a series called "Lucky Dogs" to raise money for animal shelters affected by Hurricane Katrina. She has raised money for the Guide Dog Foundation for the Blind with sales from her pieces "Lab.I.Adore.U" and "Thee Divine Diva Dogs." She also contributes to fundraising for Alaqua Animal Refuge, and local humane societies.
In line with a giving spirit, Donna teaches painting classes at her gallery to help others learn techniques in painting. She wants her classes to be a safe place, where people can open up and be creative, and feel inspired to go home and continue painting. "If you have something, and you give it away, you don't lose it. It multiplies".
Stop by the Donna Burgess Gallery at Grand Boulevard to check out original paintings and prints, to learn more about commission work, and to sign up for her painting classes. The gallery also provides framing services for all art. If you can't make it out to the gallery, you can find more information at www.artzbydonnaburgess.com.