Summer Happenings at The Emerald Coast Theatre
Marvelous Manhattan Comedy, June 15th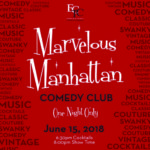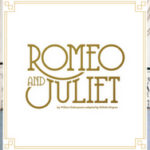 The Emerald Coast Theatre Co will be transformed into a "Marvelous Manhattan Comedy Club" for one night only On June 15th, beginning at 6:30 p.m.  The Manhattan Comedy Club, an epic comedy theatre event like no other on the Emerald Coast, is a Benefit for Emerald Coast Theatre Co. Think 1950's era, where martinis flow in New York City's underground comedy club scene. A swanky upper west side cocktail party meets a gritty, hilarious comedy club. This is the one night out that you've been waiting for! Your ticket includes: Big time laughs from national stand up comedians, 1950's all girl musical review and variety show, Swillin' Classic Cocktails and Nostalgic Nosh, wine and bourbon tastings, chef's prepared nibbles and bites, Chocolate Fondue and Bubbly and a whole lot of fun! Vintage decor inspired by EC's Best Interior Designer Todd Reeves. A cash bar will also be available for your beverage purchases. Three great acts. One Night Only. Cocktail hour by the Village Belles, opening performer, Heather Tolley-Bauer, followed by headliner Lace Larrabee. But the one-night only affair promises more, including the opportunity to purchase all or part of a collection of Maneater Winery "Marilyn" wines. Local Beau Esprit Framing business owners, Stacey and Bill Barrett, have generously donated the recently appraised 77 bottle $12,000 collection of Merlots, Cabernets and sparkling Cuvee Carneros featuring the 1950's star on the label, to help raise money for Emerald Coast Theatre Company (ECTC).
Theatre Thursdays at Grand Boulevard
Each Thursday June 7th-August 2nd
Emerald Coast Theatre presents Romeo and Juliet like you've never seen it before! This interactive version of classic Shakespearian theatre is adapted by Gillette Elvgren and full of play and fun to entertain the whole family.
Come watch at the Grand Park as we re-imagine these star crossed lovers meeting in the fabulous Art Deco era of the 1920's. Will they finally find happiness? Join us under the stars to find out! Each Thursday, 8pm, June 7th – August 2
This event is free and open to the public. Bring your lawn chair and enjoy Shakespeare under the stars! In the event of rain, join us in ECTC's space at 560 Grand Boulevard Suite 200 to enjoy the show inside.
South Walton Life | 30A News, Events and Community Information South Walton Life | 30A News, Events and Community Information READ MORE