We are often asked at Topsail Hill Preserve State Park, are there bears in the park? What about Alligators? Yes, both animals reside in the park. However, during January you are less likely to see them as both are less active in the colder months. While January is a slow month for these animals it is a busy time for people. You can kick off the new year with a leisurely hike in park. 1st. If you come to hike any of the 15 miles of hiking trails you are bound to see birds migrating south that stop in for a visit. Or maybe January finds you training for the Love Tracks 5k coming up in February. The paved path to Campbell Lake is a beautiful way to enjoy the outdoors, whether conditioning for the race or just going for a nice bike ride. The park is also in the midst of its Prescribed Fire season. Fire is an important part of how the unique wildlife, like the Long Leaf Pine Tree, and ecosystems within the park survive and thrive. Trained park staff use prescribed fires as an effective natural resource management tool when conditions are right. For safety reasons, most trails are closed during a prescribed fire. Please call ahead to check the trail you wish to hike will be open. Speaking of unique ecosystems, would you like to enjoy Campbell Lake, a rare coastal dune lake, as the alligators do? How about by the light of the moon? Since there is no urban development around this lake, it is truly a breathtaking experience to paddle it at night. Park Staff is holding a guided moonlight paddle on Campbell Lake on January 19. For more information visit www.topsailparkfriends.org.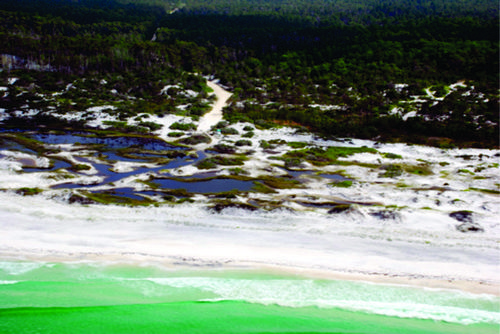 Exciting news … due to their popularity, several programs will continue as scheduled. The weekly Sunday Funday Ranger Programs will continue on Sundays. The Plant Strolls on the third Monday. Bird Walks on the second Wednesday. Breakfast with a Ranger on the second Saturday and Reading with a Ranger on the first Thursday. Topsail Talks will continue on the third Friday of the month. In January, Gulfarium will conduct a presentation on "Marine Animals." Also, Art in the Park will continue as well. If you'd like to receive the park's monthly program and events newsletter in your email inbox, visit the "About Us" section of the Friends of Topsail Hill Preserve State Park's website, www.topsailparkfriends.org, to sign up to receive it or any of the other park newsletters. You'll notice the Park Store is closed temporarily until a new concessionaire is selected. If you live locally and want to share your knowledge and welcome people in to the park, we need volunteers at the Ranger Station. Regardless of what you are interested in, there is something for everyone at Topsail Hill Preserve State Park. See you soon!
The post January at Topsail Hill Preserve State Park appeared first on South Walton Life | 30A News, Events and Community Information.
South Walton Life | 30A News, Events and Community Information South Walton Life | 30A News, Events and Community Information READ MORE