By Rick Moore
My wife's favorite color is emerald green. Shortly after we were married I bought her an emerald ring to match her emerald green eyes. From the Emerald City in the Wizard of Oz to the Bible's description of the city walls in heaven, the world is filled with visions of emerald. But there is only one true Emerald Coast, and we get to live here. Recently, an acquaintance at church asked me a simple question: What brought you here? My mind went into overdrive as I stuttered, searching for an abbreviated way to explain the journey.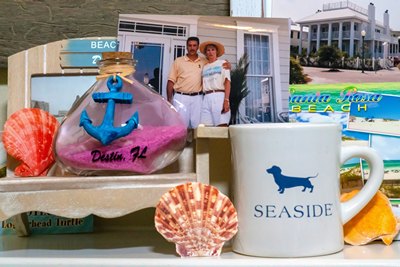 Moving here was the fulfillment of an unspoken desire I had for over two decades. Beginning in 1995, for three summers straight, my wife and I would leave the kids with grandma and head out for a short getaway to Seaside, Florida. This was right before the movie "The Truman Show" was filmed so it wasn't nearly as developed as it is today. We stayed at a Bed and Breakfast named Josephine's right behind Modica Market (unfortunately it's no longer a Bed and Breakfast). On one of our visits to The Emerald Coast we purchased a painting of Seaside which has hung over our bed for twenty years. It was our favorite place on earth.
In the late 90s we moved to Massachusetts and then ended up in Orlando where we lived for eleven years. From Cape Cod to South Miami Beach, every place we visited we would say, "this is nice but it's not the Emerald Coast." The few times we dared to dream of moving to South Walton, one of us would say "that would be great, but it would also be great to have a million dollars," and we would drop the conversation. Then, just a few years ago, my wife's best friend moved to Santa Rosa Beach. Shortly after that, my father who lived in Mobile, Alabama became ill. South Walton is between Mobile and Orlando where we lived, so we finally had the chance to revisit the white sands and crystal clear water we had longed for.
A wonderful opportunity came my way when Pastor Steve Vaggalis invited me to join the staff of Destiny Worship Center as Pastor of Communications. Many who have lived in this area for some time know how Pastor Steve started the ministry in a store front and how it has grown to five campuses throughout the region. But this is really just the beginning for Destiny, and now my wife and I get to be on the ground floor of a ministry that is poised to multiply its outreach throughout the world in the coming years.
I still struggle to give a brief answer to why we moved here. Was it to be closer to my dad? Was it to live near the most beautiful beaches on the planet? Was it to be on the ground floor of one of the most exciting ministries in America? The truth is all of the above. I have always and will always go wherever the Lord wants me to, but I'm sure glad He brought me here. I like the way a friend of mine describes it…"The Emerald Coast may not be heaven, but it's in the same zip code."
So, what brought you here? We would like to hear from you. Visit the South Walton Life Facebook page and you'll find our post pinned to the top of the page throughout the month of February. We'd love to hear from you and publish your answers in a future South Walton Life. You may also email your answers to editor@southwalton.life.
The post What Brought You Here? appeared first on South Walton Life | 30A News, Events and Community Information.
South Walton Life | 30A News, Events and Community Information South Walton Life | 30A News, Events and Community Information READ MORE