South Walton Mosquito Control District Director Ben Brewer is a very excited fellow these days. In a recent interview, Ben announced the purchase of some new and promising equipment he believes will enhance the overall mission of the SWMCD. The machine, a Buffalo Turbine, employs a large fan to disburse mosquito control product over a much larger area in a much shorter period of time. "Previously, our technicians would have to drag a hose 100 or 200 feet into a site in order to administer treatments to an infected area," Ben said. This limited the reach and effectiveness of each crew, as there is only so much ground you can cover in a day. We are still experimenting, but we're very excited about the potential to reach more and more acreage this season."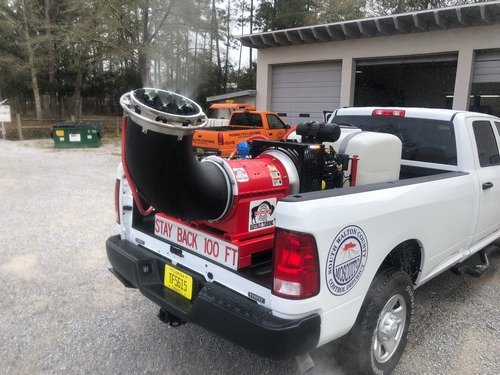 Ben explains that after a rain event, Mosquito Control only has between five and seven days before the mosquito larvae morphs into flying and biting pests. "With this new equipment, we believe we'll be able to eliminate many more before they ever materialize." Brewer continues: "We even believe we will be able to eliminate eastern equine encephalitis – a virus transmitted by mosquitoes that we've had difficulty controlling because they thrive underground or in trees, and are very difficult to even find. So, all in all, we're looking forward to a very successful season, protecting our visitors and residents from unwanted nuisances."
Newcomers to South Walton should know the SWMCD was founded in 1964 to "suppress both pestiferous and disease carrying mosquito populations to a tolerable level, in the safest, most economical manner, using a variety of methods in such a way as to minimize potential effects on people, wildlife and the environment while maximizing the value to the district's taxpayers."
Director Brewer added: "New residents should know you are paying, through your taxes, for mosquito control. If you have a problem, please call us. We will send someone out to inspect your property and devise a plan to remedy the situation." You can learn more more about the SWMCD by visiting www.southwaltonmosquitocontrol.org or by calling 850-267-2112.
The post Mosquito Control Introducing New Equipment and Techniques this Season appeared first on South Walton Life | 30A News, Events and Community Information.
South Walton Life | 30A News, Events and Community Information South Walton Life | 30A News, Events and Community Information READ MORE