Motorcycle Ride to Support Suicide Prevention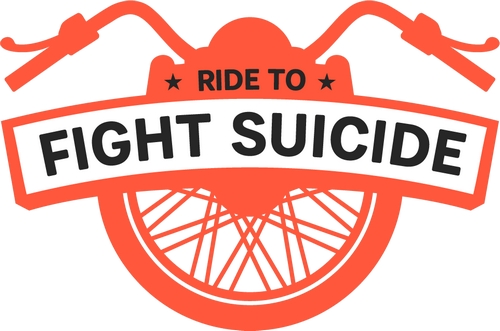 Suicide is the tenth leading cause of death in the United States, yet suicide is preventable. On April 13th, bikers will be riding in the Emerald Coast Ride to Fight Suicide hosted by the Florida Panhandle Chapter of the American Foundation for Suicide Prevention. The ride will begin at Emerald Coast Harley-Davidson and go throughout the Fort Walton Beach and Niceville area with stops at Hurricane Grill & Wings in Niceville, AJ's On The Bayou, KC's Sandbar and Grille, and ends at Infidels Clubhouse in Fort Walton. In-person registration will begin at 9:30am with the ride going kick stands up at 10:30am. Registration is $20 per driver and $10 per passenger. This motorcycle ride supports the American Foundation for Suicide Prevention's education and research programs, and the organization's goal to reduce the annual rate of suicide 20 percent by 2025. "By joining together to ride through the Emerald Coast, we hope to bring awareness of this important health issue to our community," said Jessica Roberts, Florida Panhandle Chapter Board Chair. "Mental health conditions like depression and anxiety disorder affect one in four of us during our lives, and yet too often these illnesses go untreated. No one should have to lose a battle to mental illness because they are embarrassed to seek help, or because they can't get the help they need to be healthy."
The Emerald Coast Ride to Fight Suicide is one of many motorcycle rides being held by AFSP chapters nationwide this year. Funds raised at Ride to Fight Suicide will support AFSP research efforts, including funding research studies.
"These events are about creating greater awareness for mental health and suicide prevention," said Dr. Christine Moutier, AFSP chief medical officer. "Participants in the Emerald Coast Ride to Fight Suicide are doing their part to change the conversation about mental health conditions. Their public support of suicide prevention is the first step in making people realize that taking care of one's mental health is the smart, strong thing to do."
If you or your business is interested in becoming a sponsor, please email Donna Williamson at donnawillsrb@gmail.com. To register for this event, visit AFSP.donordrive.com/event/ECRide. Follow AFSP Florida Panhandle Chapter on Facebook for updates and information on upcoming events.
The American Foundation for Suicide Prevention is dedicated to saving lives and bringing hope to those affected by suicide. AFSP creates a culture that's smart about mental health through education and community programs, develops suicide prevention through research and advocacy, and provides support for those affected by suicide. Led by CEO Robert Gebbia and headquartered in New York, and with a public policy office in Washington, D.C., AFSP has local chapters in all 50 states with programs and events nationwide. Learn more about AFSP in its latest Annual Report, and join the conversation on suicide prevention by following AFSP on Facebook, Twitter, Instagram, and YouTube.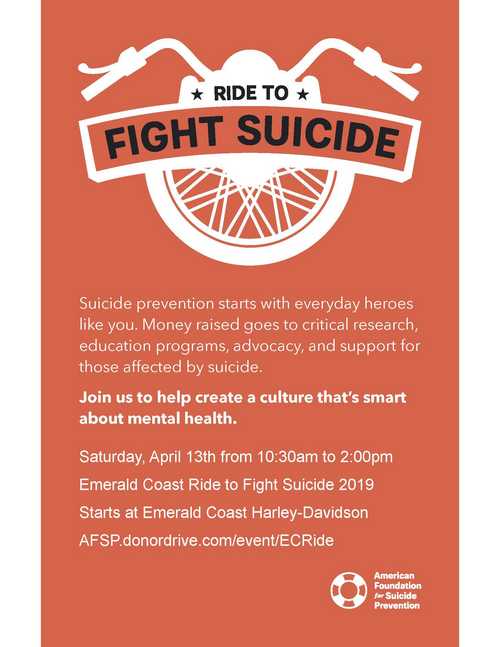 The post  RIDE TO FIGHT SUICIDE appeared first on South Walton Life | 30A News, Events and Community Information.