Habitat for Humanity of Walton County, FL
3rd Annual
Hard Hats & High Heels Luncheon Raised $18,500
Habitat for Humanity of Walton County hosted the 3rd annual Hard Hats & High Heels Women's Empowerment Luncheon at Red Fish Tacos (formally Trebeache) on Friday, March 8th from 11:30 a.m. to 1:30 p.m. and raised over $18,500, thanks to the generous women and businesses of our community.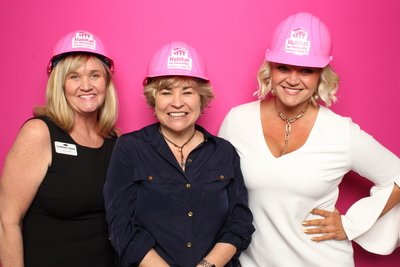 Presented by The Merchants of Rosemary Beach, more than 130 community-minded women attended the uplifting, sold-out event supporting Habitat's mission of providing affordable housing to Walton County residents, in hopes of raising funds for another roof for deserving residents.
Before the program started, all the ladies were greeted with Habitat's signature 'Hammer Slammer' cocktail sponsored by Salt Water Vacation Rentals, and enjoyed networking, and getting photos taken at the Community Bank 'Fashion Construction Couture' photo booth by Epic Photo Booths. They competed in 'She Nailed It' sponsored by Silver Sands Premium Outlets and 'Home is the Key' by Marimac's Maison 30A Vacation Rental Homes, with prizes donated by Cowgirl Kitchen, Emerald Coast Chiropractic, Destin Charity Wine Auction Foundation, Flemings Prime Steakhouse & Wine Bar, Fort Walton Beach Medical Center, and The Hyatt Sandestin Grand Boulevard; and grand prizes sponsored by The Henderson Beach Inn and Salt Water Vacation Rentals. Denise Kendust was the lucky winner of the 'Watch Love Grow' chance drawing for a beautiful David Yurman fine watch, sponsored by McCaskill & Company Fine Jewelry & Watches.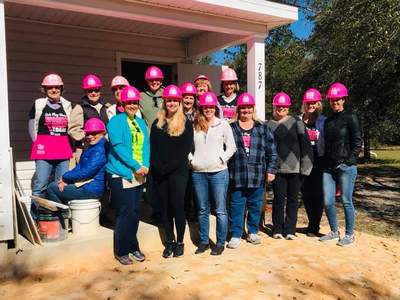 Attendees also bid on handmade pieces in the silent auction, 'A Brush With Kindness,' which featured five local artists/designers who repurposed pieces from the Habitat's ReStore. Featured artists were Katie Kahn of Kahn's Furniture, Lee Hensley of Lola's on 30A, Jennifer Jones of Compass Builders of Florida, Marisol Gullo of Not too Shabby Boutique and Cynthia Ragon Roberson of Unforgettable Artistry by Cynthia Robertson.  The bidding was competitive, as these works were highly sought after.
During the second half of the event, luncheon guests heard from the 'Who Built You Up?' guest speaker, and Nikki Nickerson, local entrepreneur and owner of Blue Mabel, Cowgirl Kitchen, and CK's Feed & Supply. The custom created Velia Lala Designs awards were presented to the 2019 Glamour to the Hammer recipient, Janet Woerner and the 2019 Veronica Macias Power Woman of the Year recipient, Gabriella Testa.
"We are extremely honored to host this event each year with our local community partners," says Habitat Walton County Executive Director Teresa Imdieke. "Women and businesses are concerned about the status of affordable housing in Walton County.  By bringing them together to advocate on behalf of those in need, educating them on the statutes of housing in our county, and providing actionable ways they can help, the women of our community stepped up and raised some much-appreciated revenue for our mission."
Sponsors and supporters include: The Merchants of Rosemary Beach, The Henderson Beach Inn, Silver Sands Premium Outlets, Community Bank, Myrtie Blue Florals & Events, Sandestin Ladies' Golf Association, Marimac's Maison 30A Vacation Rental Homes, Young's Screenprinting & Embroidery, Visit South Walton, Clay30A, White Wilson Medical Centers, ImagiNia, Dog-Harmony, Joni Ganger and Media & PR Sponsors, Get The Coast, Proffitt PR, and VIP Magazine.
"We are so grateful for our sponsors and wonderful donors who played a vital role in making this the best event yet," says Imdieke. "With their help, and others looking to get involved, we are excited to continue growing the Hard Hats & High Heels event to provide even more help for those in Walton County."
About Habitat for Humanity of Walton County, Florida:
Seeking to put God's love into action, Habitat for Humanity brings people together to build homes, communities and hope. Habitat is dedicated to eradicating substandard housing by building simple, decent, affordable homes in partnership with low and very-low income families in need. Habitat for Humanity is a catalyst for individual and community transformation. For more information, contact our offices 850-660-1681, email volunteer@waltoncountyhabitat.org or visit waltoncountyhabitat.org
The post Hard Hats & High Heels appeared first on South Walton Life | 30A News, Events and Community Information.
South Walton Life | 30A News, Events and Community Information South Walton Life | 30A News, Events and Community Information READ MORE