A new program being tested on three beaches in South Walton has it sights set on eliminating "ghost chairs" and other inconveniences identified by beach goers and the Walton County TDC.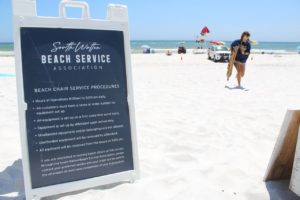 Thanks to a new managed vendor program, which is overseen by the South Walton Beach Service Association (SWBSA) in partnership with the Walton County TDC, chairs and equipment are now regulated through a pilot program at Inlet Beach and Ed Walline Regional Beach accesses and will only be set up when guests arrives at the beach, and taken away when guests leave the beach.
Already, the initial reaction has been so positive that the Walton County Board of County Commissioners voted during their April meeting to expand this year's program to include the public beach access at Grayton Beach starting in mid-May.
All permitted vendors in Walton County have an opportunity to participate in the program. All they have to do is register through the SWBSA and agree to follow a set of operating procedures. The vendor agrees to drop off/pick up their equipment as needed, or store their equipment in the association's storage boxes on the beach. Part of the agreement includes the stipulation that vendors are not allowed to set up or tear down equipment on their own, and they will be charged a service fee based on usage.
Vendors that fall under this new program include beach chairs/umbrellas and in the future may include watersports equipment, such as kayaks and paddle boards. The program does not regulate special events permitted vendors, such as photographers, wedding officiants, or beach bonfires.
On the beach the program will be overseen by an attendant, who will assist beach goers. The attendant will set up equipment, and when the guest is done the attendant will then remove the equipment from the beach and properly store it, which will dramatically help to alleviate the issue of "ghost sets" being left on the beach.
"The managed vendor program is working out as it was designed, and is helping to mitigate the problems that surrounded vendors on public beaches," says Brian Kellenberger, beach operations director for Visit South Walton. "We are seeing great success as a pilot program, and expect to expand it to other regional beach accesses in the future."
For more information about the managed vendor program, contact Brian Kellenberger at Brian@VisitSouthWalton.com or call (850) 267-4578.
The post Managed Vendor Program Aims to Streamline Beach Vendors appeared first on South Walton Life | 30A News, Events and Community Information.