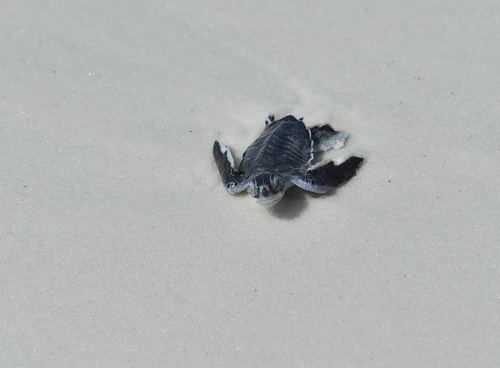 August brings blooming wildflowers, osprey chicks and the shift into the hatching season for both sea turtles and alligators at Topsail Hill Preserve State Park. August also marks the 21st anniversary of being a Florida State Park. Because of the time of year, one can't think of a more appropriate theme for the park's birthday party than sea turtles. The birthday party and "Sea Turtle Baby Shower" will be held on Saturday, August 17th, from 4:30-6:30pm. Of course, there won't be any live sea turtles at the event because they're in the Gulf of Mexico; but there will be cake, fun activities, and games to celebrate the park, sea turtle hatching season, and the animals in the Gulf of Mexico. Does anyone know what an oviparous animal is? What about a sea bean? What's a mermaid's purse? Want to see one up close? Come find the answers to these and other fun questions during the baby shower. What makes it a baby shower? Well, there will be "baby registries" available for everyone with ways they can help the park. Some items listed are action oriented such as skipping the straw while others are items people can donate, like dry erase markers, to the Friends of Topsail Hill Preserve State Park, which helps them support the park.
Speaking of sea turtle hatchlings, as one shifts into the hatching portion of sea turtle season, it is a great time to remind everyone they can help increase a hatchling's chance of survival by keeping the beach #CleanDarkFlat.
August is also the start of hatching season for alligators, another reptile that calls the park home. To add to the month of reptilian revelry, the Long Leaf Alliance will be in the park for Topsail Talks on Friday, August 16th, at 10am. They will be talking about the "Snakes of the Florida Panhandle." There might even be a live snake or two at the presentation.
Of course everyone likes animals, plants and wildlife at Topsail Hill Preserve State Park. Want to learn more? Don't forget about the Sunday Funday Ranger Programs at 9am, the Bird Walk on August 14th, the Plant Stroll on August 19th, and Breakfast with a Ranger on August 13th. Have more of a creative streak? Want to explore one's inner artist? Remember, Art in the Park returns on August 9th with Basket Weaving. For more information and to register for Art in the Park visit www.topsailparkfriends.org.
Want to help protect the wildlife within the park? Be a park volunteer! Topsail is always looking for volunteers to help welcome park visitors and inspire them to be stewards of the precious ecosystems within the park. Whether one wants to celebrate, learn, explore, or inspire, Topsail Hill Preserve State Park is the place to be!
The post August at Topsail Hill Preserve State Park appeared first on South Walton Life | 30A News, Events and Community Information.