By Sue Gambla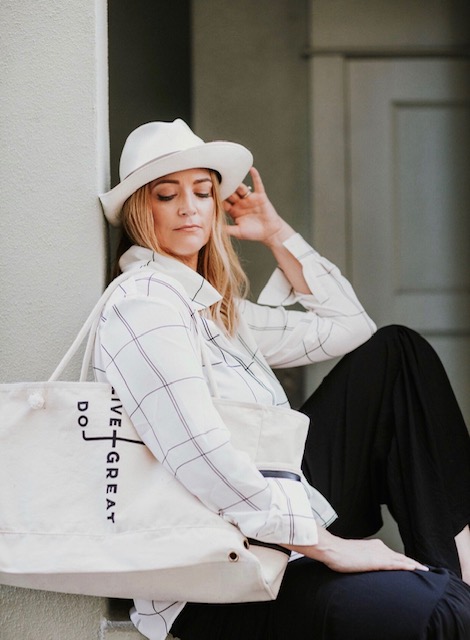 Jamie Parker is the designer and creator of the life-giving, eco-friendly take anywhere BE. LIVE. DO. GREAT totes. As her nine year old old son Aiden will tell you, Maha Loka is all about LOVE and the GOOD STUFF. Out of the mouth of babes, the truth is always told.
Maha Loka which means "Great World" was created three years ago out of the need for a better take along tote to her practice of teaching yoga. Growing up in an entrepreneurial family, the "American dream" began in their garage with a simple cabinet business when Jamie was just five years old in Tulsa, Oklahoma. Here she discovered her passion for design and need for great functional quality products, but also for people, and their need to be heard, felt, loved and accepted. Here she also most importantly met the love of her life and best friend, her husband Michael.
Jamie not only receives motivation and insights from her amazing husband, but also from her adoring children and precious grand baby that are the source of her beautiful life. Creativity inspired by designer Stella McCartney with her steadfast devotion of sustainable fashion, and deep affection for humanity and goodwill for the marvelous planet is her muse.
Because all are flawed and need to transition to grow, Jamie meets people without judgement. Her care-free loving spirit and care for the hurting has always been a part of her being. To see change in the world has always been Jamie's intention. The BE. LIVE. DO. GREAT totes are just that answer to give back and see a global change, one tote at a time.
Maha Loka is more than a simple company selling sustainable products, it is life-giving, life-changing and life-sustaining. Working with creative artisans, visionaries and dreamers in Kenya, Maha Loka gives communities opportunities to raise their standard of living with R.I.S.E; Respect, Invest, Sustain and Empower.
It is not just a pretty tote..it's building relationships and encouraging hope here and around the globe. It's having coffee with your favorite gal while uplifting global change. When one embraces one's humble and joy filled greatness, one can express this passion of peace and love to communities that are miles apart, but also as close as one's own heartbeat. All want to be united in love, truth and grace because all have been given that opportunity.
Now that's called LOVE and THE GOOD STUFF.
Connect with Jamie and Maha Loka on Facebook and Instagram or through her website at http://www.themahaloka.com
The post Maha Loka… It's all about LOVE… appeared first on South Walton Life | 30A News, Events and Community Information.
South Walton Life | 30A News, Events and Community Information South Walton Life | 30A News, Events and Community Information READ MORE