A favorite New Orleans recipe adapted from Galatoire's cookbook, a favorite New Orleans restaurant. It's called Crabmeat Maison. Galatoire's is a James Beard Award winning restaurant nestled in the heart of the French Quarter, and it's cuisine is anchored in French Creole traditions, which reflect the bounty of the region's seafood, poultry, game and spices. Receiving a large gift box of avocados with four varieties from SoCal Avocados served as inspiration to make  Avocados Stuffed with Crabmeat Maison (Crab Stuffed Avocado).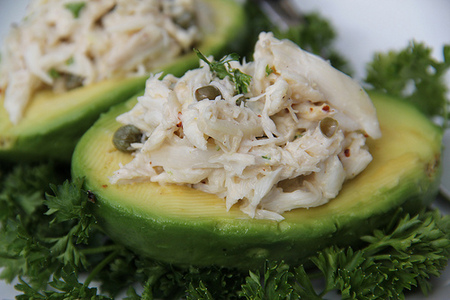 SoCal Avocados are grown on a small farm in California, ripen after they are picked from the tree, and each is handpicked to order. They are carefully packed, and shipping is free. Their prices are very affordable, and the new favorite, the Fuerte, comes highly recommended. Though familiar with Hass native Florida avocados, there are now new favorites. The varieties sent were:
Bacon: Large body, smooth green skin, fruity and mild in flavor.
Fuerte: A smaller avocado in size, smooth, creamy and rich flavor. This was used in the Crabmeat Maison Recipe.
Pinkerton: Large body with rougher skin, and slightly fruity. This was used in the  Great Guacamole.
Hass: Thick rough and dark skin, most commonly seen in markets, creamy and smooth.
Recipe: Avocado Stuffed with Crabmeat Maison:
Ingredients:
For the Maison dressing:
1/2 cup white wine vinegar
2 tablespoons creole mustard (can substitute Dijon, or a course, seeded country-style mustard)
1-1/2 cups high quality olive oil
1/2 teaspoon salt
1/8 teaspoon freshly ground white pepper
Avocado Stuffed:
1/2 cup Dukes or Hellman's mayonnaise
3 tablespoons Maison dressing (above)
3 green onions, finely chopped
1 teaspoon small capers, rinsed and drained
1/2 teaspoon chopped flat-leaf parsley
1 pound lump crabmeat
3 soft ripe avocados
1 large head of iceberg lettuce cut into ribbons (not shown)
1 large heirloom tomato cut into wedges, creole if available (not shown)
Lemons
Preparation:
To make the maison dressing, combine vinegar and mustard in a food processor, slowly adding olive oil in a thin stream to form an emulsion. Season with salt and pepper.
Remove to a mixing bowl, and mix together mayonnaise and maison dressing. Gently fold in the  green onions, capers, parsley, salt and pepper.
Chill for two to four hours.
Just before serving, gently fold in the lump crabmeat.
Slice the avocados in half, removing outer shell and seed. Divide the lettuce ribbons among 6 serving plates spooning the crab on top of the avocado. Garnish with a slice of tomato and wedge of lemon on the side.

The post 30A Eats Recipe of the Month: Crabmeat Maison appeared first on South Walton Life | 30A News, Events and Community Information.
South Walton Life | 30A News, Events and Community Information South Walton Life | 30A News, Events and Community Information READ MORE