By Alan Roberts
How safe did you feel the last time you used a rideshare service? Did the driver open the door for you? Were you treated like a guest and feel special? There are so many questions, so little justification for what Americans are currently experiencing throughout the industry. Put it this way, if what is happening with the two largest rideshare companies occurred on Delta or United Airlines, a congressional inquiry would be started.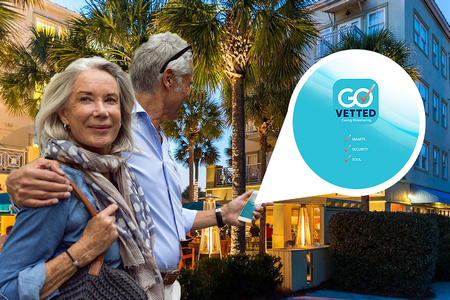 Fun fact: Currently, only 20% of Americans have used a rideshare service. Numbers will continue to increase each year, because those who used rideshare during the previous 12 months, increase their usage by another 20%. And despite losing $5 billion in the most recent quarter, Wall Street loves a unicorn. Even the onslaught of negative press can't slow down this juggernaut. The apps are already on people's phones and it appears the general public is happy tempting fate.
It doesn't have to be this way.
Local area businessman John Finch wants to change the perception of ridesharing. His new company, Govetted Technologies, opened its doors in Santa Rosa Beach earlier this year. But why here?
"This is a good testing ground for our technology," said Finch. "With three airports, a nice mix of locals and tourists, plus the opportunity to provide non-emergency medical transportation to area hospitals and medical offices, we are uniquely qualified to change the perception of ridesharing by offering fully vetted and background screened, and drug tested drivers."
How uniquely qualified? GoVetted is the only rideshare company in America currently drug screening its drivers. This translates to better security and safer conditions when your mom, daughter, or wife needs to get home. In addition to local, state, and federal background checks, GoVetted also performs sex offender background checks, and their drivers must pass CPR, First Aid and Defensive Driving training.
"Honestly, some of the drivers for other companies couldn't pass muster to work for Publix," said Finch. "Yet here we are trusting them with our most valuable resource, our families. It's simply unacceptable for companies started by computer programmers to come into our neighborhoods and operate this way. I have over 16 years of experience in the professional ground transportation industry, and I sit on the Board of the Florida Limousine Association. More importantly, I have three daughters. I started GoVetted with them in mind."
Finch's passion for the industry, and his training methods, are legendary. He has trained over 300 drivers in NW Florida through the years, instilling in them the necessary tools to treat customers with consideration and respect.
Finch says, "We provide our drivers with the opportunity to create a sustainable business for themselves. The two largest rideshare companies have made it clear, they are not transportation companies. They are strictly tech. Where does it say you can't be both?"
GoVetted's slogan is "Caring Ridesharing." And with Finch at the helm, the panhandle is lucky to have a local option to get home safely.
The post Local Businessman Introduces GoVetted: A New way to Rideshare appeared first on South Walton Life | 30A News, Events and Community Information.
South Walton Life | 30A News, Events and Community Information South Walton Life | 30A News, Events and Community Information READ MORE