By Josette Rhodes
I had the pleasure of meeting Laura Vida when she came into 30A Songwriter Radio on our Tuesday Night Open Mic. The first thing I noticed about her was her presence. She is the type of person that you feel when she walks into a room. There seems to be a spark in the air around her. As Ms. Vida's name was added to the schedule, I found myself wondering just who is this artist and looked forward to her performance.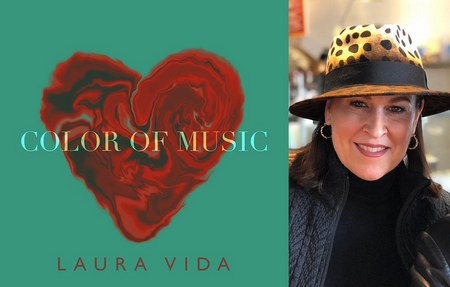 In a humble yet authoritatively professional way she readied the accompanying musicians. With a laugh and a wave of her hand you were at once put at ease while understanding that this was not going to be your run-of-the mill performance.
As Laura Vida sang, the audience was wrapped in a passionate embrace of her soulful, sultry voice. Ms. Vida's words wove an emotional connection among us all creating a shared experience not to be soon forgotten.
Laura is from southern California and began performing at an early age. Her first recording session was at Jel Recording in Newport Beach.
If Ms. Vida's name seems to ring a bell there is good reason. Some of her performances have been with The Righteous Brothers, B.B. King, Gladys Knight, Cedric The Entertainer, The Lee Ferrell Trio (actor Will Ferrell's father), The Tennessee Jazz and Blues Society, The House of Blues, Sambuca, Wild Ginger and many others.
Known as a versatile keyboard player, vocalist, and songwriter, Laura Vida, upon moving to Nashville, began co-writing with many of Music Row's top songwriters including Harlan Howard of "I Fall To Pieces," Stewart Harris of "No One Else On Earth," Even Stevens of "When You're In Love With A Beautiful Woman," and Larry Henley of "Wind Beneath My Wings."
Laura combines her sultry soul, blues and jazz styles together creating a unique sound that is all her own. She recently finished her newest CD "Healin Love."
James Stroud, former president of DreamWorks Productions says, "Laura is one of those rare artists who paints a picture with her voice. When you hear her music, you hear her soul," and I couldn't agree more.
You have a chance to experience this truly talented artist on Saturday, November 9th, 6pm – 8pm at Hibiscus Cafe, 85 Defuniak St, Grayton Beach. Tickets available at Eventbrite.com.
The post 30A Songwriter Radio's Artist Spotlight: LAURA VIDA appeared first on South Walton Life | 30A News, Events and Community Information.
South Walton Life | 30A News, Events and Community Information South Walton Life | 30A News, Events and Community Information READ MORE