By Tracy and Mark Stanley
Meet Tyler White, Head Brewer at Grayton Beer Company, a Santa Rosa Beach success story. Tyler's training and experience bring the "craft" to such iconic local brews as "30A Beach Blonde Ale," "Salt of the Gulf," and Fish Whistle IPA." We interviewed him as he stood behind the bar at the Grayton Beer Taproom, the company's 30,000 square foot production facility in the South Walton Commerce Park.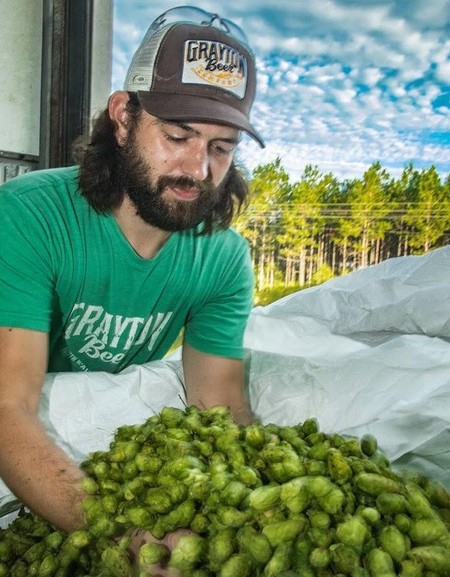 Why did you become a brewer?
I got a degree in religious studies – the least practical degree on the planet. The Lord put me on a path where I've always been around people that don't know Him. In college I was having a lot of these conversations over a beer. So I came at beer from a social standpoint. I was pretty frustrated with how, especially in the Southeast, alcohol is such a legalistic focus. People were missing the point. I started home brewing, but It didn't register that it was something I could do for a living. Then I read the story of Arthur Guinness, a believer. He saved the city of Dublin through his brewery. He built housing for employees and paid them like six times the minimum wage. This was when Ireland was in famine. Just a phenomenal story. So I had a lightbulb moment: I can follow Jesus and brew beer for a living. That's possible.
You learned the craft in Germany?
Yes, a trade school in Munich called the Doemens Academy. Brewing in Germany is a generational trade. They take high school classes in brewing at fourteen years old. Martin Luther's wife was a brewer. Her beer sales funded the early days of the Protestant Reformation. The oldest brewery in the world, Weihenstephan, is still functioning in Munich. It opened in 1048. If you've been doing something for over a thousand years, you're going to get the hang of it.
How did you get involved with Grayton Beer Company?
I saw a post on Probrew.com, the classified website for the industry. We moved from Munich and came straight here. I knew I wanted to see a brewery built from the ground up. Grayton had been contract-brewing. They had built the brand, but they were testing the market before building a brewery. I moved here the day they were cutting the floor to put this drain in. It was Brad Schenkweiler as bartender, me straight out of school, and Jamey Price, the original founder of the brand…. We were like, all right, let's build a brewery.
Is 30A Beach Blonde Ale your best seller?
It's about 75% of what we do and the first one we produced here. Making a lighter beer is the hardest thing, because there's nowhere to hide any flaws. The water chemistry has to be right. The ingredients have to be high quality. The fermentation has got to go perfectly. We bit off a lot when we decided to make a blonde our staple, but it made us better brewers.
How do you feel you've contributed to Walton County?
There's not that much skilled labor here outside of construction. Most everything is either entertainment, real estate or hospitality. We went in five years from three jobs to now, with the [Grayton Beer] Brewpub, over 70 jobs. We've had a real economic impact. Families are able to move here and have a 365-day-a-year job. I think that's probably the most gratifying thing about it. The other thing is how philanthropic the brewery itself has been. We've found it important to give back in real ways. And our currency is normally beer. When people do events, we'll donate beer. Then Hurricane Michael happens last year. The brewery was the largest warehouse space, really, that was unaffected. So we used the space as a distribution hub.
Any final thoughts?
What's the Ben Franklin quote? "Beer is proof that God loves us and wants us to be happy.'"
Tracy and Mark Stanley are the hosts of a community website called The Faces of Walton County. The project aims to showcase the diverse residents of our community, one Face at a time. To nominate someone for an interview visit www.thefacesofwaltoncounty.com or call Tracy at 850-803-9822.
The post Faces of South Walton: Tyler White appeared first on South Walton Life | 30A News, Events and Community Information.