By Rick Moore
The most traveled road for locals and visitors alike throughout the Emerald Coast is Highway 98. Many are surprised to discover Highway 98 extends through several states. Decades ago, I would travel that road several times a year from my home in Mobile, Alabama, through the state of Mississippi, and into the state of Louisiana. During the 1980s, there were so many accidents due to construction on the highway that it was nicknamed "Bloody 98." But today, the ride from Mobile through the state of Mississippi on that highway is very nice. Persistence paid off. If you've traveled between Destin and Sandestin over the past couple of years, you know what a mess Highway 98 has been. No one is really sure how much longer construction will continue. This project is managed by FDOT and was slated to take 1,220 days to complete. That is obviously not happening. But one thing we can count on; it will get done. One day, newcomers will travel the wide beautiful road without having a clue of the sacrifices, delays and challenges it took to complete.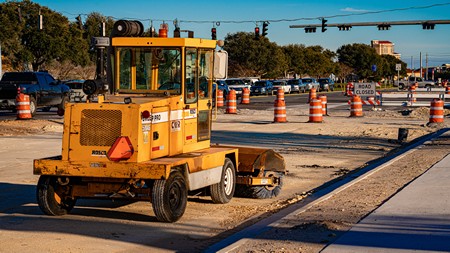 While it is easy to complain about the rate of progress on Highway 98, there is something that seems to take even longer. That is… improving my own life. Just like Highway 98, it seems my life is always in need of repair. There are so many excuses (I mean reasons) I can give as to why areas of my life take so long to improve. It seems I've been working on these areas for many years, yet with little to show for the effort. When you get old, you get tired of being under construction. While FDOT isn't perfect, perhaps we can learn something from them; namely, consistency.
"Consistency, thou art a jewel." This was a favorite saying a friend of mine used to quote regularly. While so many were talking about getting out of the box and making changes, he focused on consistency. His favorite proverb was, "A little sleep, a little slumber, and suddenly poverty and destruction are upon you." The sculptor chips away until the stone becomes a work of art. The painter brushes until the final details reveal a masterpiece. The sloth scratches his head and wonders why nothing good ever seems to happen to him.
While producing some leadership videos, I had the privilege of filming two highly successful people. Neither one knew what questions would be asked. The interviews began with the same question, "What is the secret to success?" They both gave the same answer; "do what you say you will do." That answer surprised me. They went on to explain, there are so few people who have the discipline to do what they say they will do, that those who are consistent rise above the crowd and are always in high demand.
But what about the times we miss our deadlines? What about the slip-ups and fall-backs? Why do we become troubled and have anxiety about the imperfections in our life? Why do we let life's little problems get us down? When trouble knocks you down, and it will, you need to become a rebounder. Learn to bounce back quickly. If you messed up your diet, bounce back. If you missed your daily exercise, bounce back. If you forgot to pay a bill that hurt your credit score, bounce back. If you missed your meditation time, bounce back. Learn to consistently bounce back and there will be nothing that can hold you back.
While recently walking the halls of a hospital, I noticed signs throughout the facility which read "Pardon Our Progress." Floors were being ripped up, wall paper torn down and light fixtures dangling from the ceiling. Much like the highway under construction, in order to make improvements, some of the old needed to be taken away. It made me ask myself, what needs to be taken away from me before I can improve. In that moment, the realization of how impatient I was made me realize the need to get rid of the impatience in my life. How about you? What needs to be removed in order for there to be real progress in your life?
Rick Moore is Communications Pastor with Destiny Worship Center in Miramar Beach.
The post Progress appeared first on South Walton Life | 30A News, Events and Community Information.