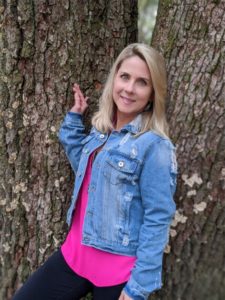 Amy Delivorias moved to the Santa Rosa Beach area in 2009 along with her husband Bradley and their four children. Originally from Macon Mississippi, Amy's love for music began at a very young age with the release of the classic musical film, "Grease".  She began performing vocals at age seven, singing in church, and at local events in Mississippi with her father, a talented guitarist and vocalist. She's been singing in church and at local events for over thirty years.
Amy's performance of music extends to multiple styles.  Her most loved ones are country, pop, rock, and gospel. She has a passion for the older rock and roll, and enjoys the music of Queen, The Eagles, Fleetwood Mac, Credence Clearwater Revival, and similar rock bands from the 60's, 70's, and 80's. Amy has recorded several demo tracks in professional recording studios in Nashville, TN and recently participated in auditions for "The Voice" in Nashville, TN.
Amy says, "The emotional connection to the music is where each vocalist best performs. It is my goal as a vocal instructor to help each student reach their full potential, by developing exercises and choosing songs best fitting the vocalist's personality and emotional connection to the music." 
Amy believes that unlike other instruments, the voice is unique to each person.  Teaching voice enables her to help each student develop and grow with their unique instrument. Amy encourages students to develop their own style, and to avoid trying to sound exactly like the original artist. A student "sounding like themselves" is where the student connects emotionally with their music.
As a teacher, her first focus is to determine what genre of music the student most closely relates to or moves one's emotions.  Amy then develops vocal exercises which are student specific, to enable the individual to obtain their own personal goals and where the student desires to "go" with their vocal ability.  "I encourage students to be themselves, sing from their hearts. My message to all aspiring vocalists is, 'The best thing to do in life is to do something that outlasts it'."
Amy adapts each vocal lesson to the needs and musical preferences of each student/artist.  She encourages every artist who loves to express their unique creativity through music, to use their unique set of qualities.  "Qualities" will set any singer apart from the others.
Amy says, "If singing is your passion, then you should always "go for it".  Pursue your dreams and do what you love. I feel blessed to be able to have this opportunity, to share my love of music with others, who feel it in their spirit as I have since my early childhood."
You may listen to Amy singing at www.spaces.hightail.com/receive/T4E6PITSb4
To schedule voice lessons with Amy Delivorias, call Studio 237 Music Lessons at 850-231-3199 and ask for Ray Cyr.  To find out more about our studio, visit the website www.Studio237Music.com or call us to schedule a studio visit tour.  Our studio email is Studio237Dawson@gmail.com.
The post Studio 237 Music School Meet the Teacher: Amy Delivorias appeared first on South Walton Life | 30A News, Events and Community Information.
South Walton Life | 30A News, Events and Community Information South Walton Life | 30A News, Events and Community Information READ MORE