Cortni Bird is an up and coming country singer songwriter. She is also an accomplished television interviewer with her new 30A television show called "Backstage with Cortni."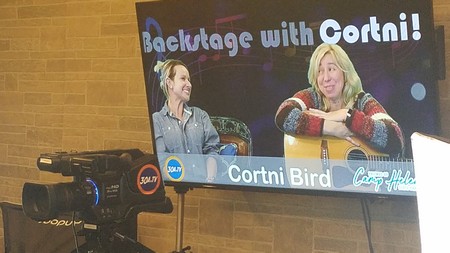 Cortni wrote and produced her first album at aged 19, has toured the United Kingdom, and is in constant contact with the Nashville and Florida music scene. She is at home on radio or television, and her music insight produces entertaining and probing interviews.
Cortni recently interviewed Kristian Bush of Sugarland, who has a new collaboration with his brother called Dark Water. Other artists were in town for the 30A Songwriters Festival, and one of the breakout shows showcased Shaun Amos, who has worked with Quincy Jones and many others.
Cortni was able to ask questions most others won't or dared not. One of the most intriguing she asked was "What was the craziest thing that has ever happened on tour" – the answers are a "must watch" experience when the answers are retold on camera.
"I just enjoy cutting up a bit and always try to make the artist feel at home, said Cortni. So my interviews are kinda buttoned up into a package, but I would rather dig a bit deeper, while still covering the questions fans want to hear about."
Both of these interviews are available on www.30a.tv in the Music Scene Channel.
Cortni is very active on social media, you can follow her as Cortni Bird on instagram, Facebook, and on her website at www.cortnibird.com
About 30A Media
30A TV broadcasts seven live channels of original programming, including Outdoors, Real Estate, Celebrity Interviews, music videos, and comedy. Available via Itunes, Android, ROKU – Amazon Firestick, and at www.30a.tv.
The post What's on 30A TV;  Backstage with Cortni Bird appeared first on South Walton Life | 30A News, Events and Community Information.
South Walton Life | 30A News, Events and Community Information South Walton Life | 30A News, Events and Community Information READ MORE