By Susan Benton
Most restaurants peppered along the Gulf Coast claim to serve fresh local seafood, but when you utter the name Harbor Docks, the claim becomes fact. Owned and operated since 1979 by Charles Morgan, a former private boat captain turned successful restaurant entrepreneur, Harbor Docks Seafood emerged with humble beginnings as a place for commercial fishermen to enjoy ice-cold beer and oysters after a hard day's work.
Charles Morgan figured out early on that removing the middleman from the sale of the fish meant better accessibility to the fish and lower prices, a winning combination for expanding his Destin harbor front seafood shack on the property that his father, a prominent civil rights attorney and activist, had purchased on a whim. We moved to Atlanta when I was in third grade and vacationed and fished in Destin. When my father came into a little money, he bought the property. I graduated from the University of Alabama and knew my passion was on the water, so I made the move", said Morgan.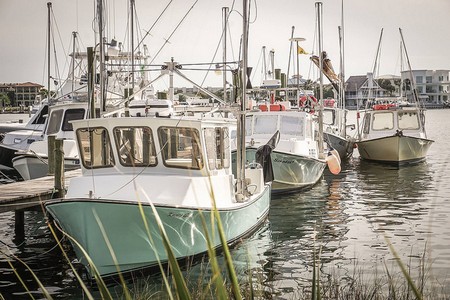 After only one year in business, Morgan decided to enlarge his shanty by adding a main dining room followed by Harbor Docks Seafood Market located in the under belly of the restaurant. "I went to a bank that would not give me a loan. I tried a second local bank and was given a check on the spot. We built everything ourselves, and created a market so that the fish could come straight off the dock into the cutting room, well before the city was incorporated", said Morgan.
The wholesale market supplies wild caught fish to Harbor Docks and Morgan's other family of restaurants — Camille's at Crystal Beach in Destin (named after his mother), The Local Market and La Paz in Destin, Dharma Blue in Pensacola, Chuck's in Tuscaloosa, Mobile and Birmingham (named in honor of his father), along with Five Bar in Birmingham, Tuscaloosa, Knoxville, Mobile, Chattanooga, Athens.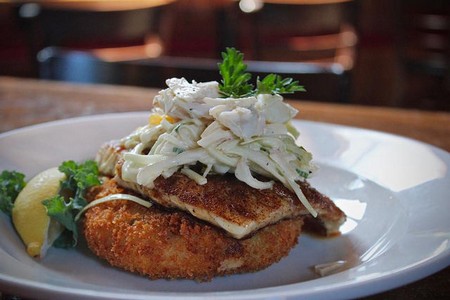 Fishing in the Gulf of Mexico is certainly not easy and subject to an array of constantly changing rules created and enforced by multiple state and federal agencies. From the species, sizes and numbers of fish that can be caught, to permitting required for just commercial fishing, Morgan said" We keep track of permits, the cost of fuel, ice, bait, and tackle too. Fishing is also subject to closures, the weather, and the fish not biting. It's complicated and difficult. It blows my mind to see intelligent people, and those that only want to eat organic, not wanting to pay the price for fresh seafood. If it's cheap, it's not fresh, and more than likely mislabeled, imported, or farm raised in a pond somewhere. The seafood we sell, in my opinion, is not expensive enough! It is the last source of wild protein that we've got", said Morgan.
For more information about Harbor Docks Seafood & Cocktails, and to see Morgan's Local Knowledge videos, visit harbordocks.com or call (850) 837-9221. PS: They also serve a killer breakfast starting at 7 a.m.! Please also follow American Lunch serving free food to the public from 11am to 1pm daily, seven days a week during Covid-19, no questions asked.
The post Capt. Charles Morgan & Harbor Docks in Destin are Gulf To Table Certified appeared first on South Walton Life | 30A News, Events and Community Information.
South Walton Life | 30A News, Events and Community Information South Walton Life | 30A News, Events and Community Information READ MORE