By JENNIE MCKEON, WUWF, NPR for Florida's Great Northwest, wuwf.org
When disaster strikes, Laurie Hood, founder of Alaqua Animal Refuge, is usually one of the first people to hitch her trailer and rescue domestic, farm or even exotic animals.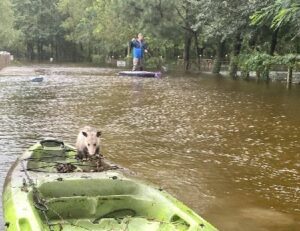 But after the refuge took in over 30 inches of rain from Hurricane Sally, Hood is on the receiving end of assistance to ensure the safety for the hundreds of animals that call Alaqua home. "The storm was not like anything we thought it was going to be," she said. "We knew we were always at risk — there's a Bay to the south, a creek to the west and a river to the east, but we were watching the storm and it was supposed to head toward New Orleans."
When the path changed, Hood made the quick decision to call fosters to take in the dogs and cats on Tuesday. It took three hours to find temporary housing for 90% of domestic animals. The farm animals were moved to higher ground. By Wednesday morning, Hood said the refuge had taken in about 1 to 2 feet of rain. And when she returned later that day, she said the flooding had nearly tripled. Full-sized horses were in chest-high water. "I couldn't stop thinking about this opossum I saw sitting on the top of a fence. So, I got in the kayak to bring him to the dry areas at the refuge," she said. "When I got there, it was surreal. I just thought, 'Oh my God.'"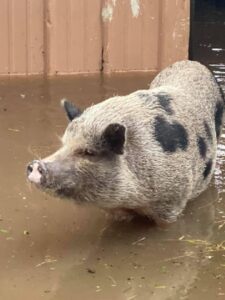 She called her husband, two sons and Alaqua staff to rescue the 30 remaining animals — goats, sheep, pot-bellied pigs, mini-horses and turkeys. Instead of Noah's Ark, they used paddle boards and kayaks to move them to the highest ground on site. "(The refuge) was all underwater," she said. "We lost all the food and supplies. I don't know if any of the buildings or barns will be salvageable."
Hood founded Alaqua Animal Refuge in 2007. The 10-acre farm in Freeport is a no-kill haven for hundreds of animals, some of which are rescued from abuse cases. Hood regularly responds to hoarding or breeding cases throughout the state.
When Hurricane Michael devastated Panama City in 2018, Alaqua responded by taking in 2,500 animals, and boarded hundreds more for people displaced by the storm. And when Louisiana was hit with massive flooding in 2016, Alaqua helped raise thousands of dollars for rescued animals. They also took in six horses from the St. Landry Parish Animal Control & Rescue.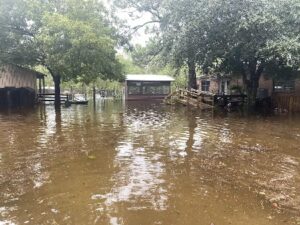 In 2016, Alaqua announced plans to relocate the refuge to a 100-acre piece of land donated by local conservationists MC and Stella Davis, just 10 miles away from its current location. They began a capital campaign to build what will be a permanent home for the refuge.
While staff and volunteers have begun cleaning up debris and pressure-washing the buildings, Hood said she'd like to take this opportunity to not just build back, but build back better. "This could be the big push to get us there," she said. "We're so grateful to have a community that steps up when we need help, and our staff that hasn't had a day off. This is an opportunity to come back strong."
Photo Credits: Alaqua Animal Refuge
The post Flooded Refuge Seeks To 'Come Back Strong' appeared first on South Walton Life | 30A News, Events and Community Information.