Let's cut straight to the chase – it's worth the drive! Whether you're coming from the north, east or west, (it's a little tricky to come from the south unless you have a boat or scuba gear) it is worth the trip to Mike's Café and Oyster Bar on Front Beach Road.
Locals love to regale newbys like me with stories of how much the Beach has changed over the years, and how it was once a quaint seaside village, popular with visitors from Alabama and Georgia. It is often hard to picture it the way it was until you walk into a popular hangout like Mike's.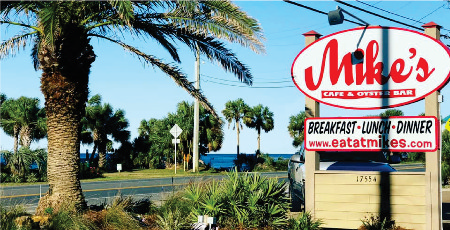 According to their website, Mike's did not actually open until 1981, but there is a certain 'I have been here forever' feel to the place that makes you feel immediately at home and back in old Panama City Beach.
Deceivingly spacious, Mike's is part diner (it used to be called Mike's Diner) and part restaurant and one hundred percent Southern. Right down to the notice on the front door that tells you service will be denied if you don't pull your pants up over your underwear.
Even a cursory look at the menu and you know you are in the South and in for a treat. The lunchtime Blue-Plate Specials draw a large and habitual crowd. A virtual cornucopia of Southern fare.  I visited with friends on a Wednesday (I thought the more people who joined me the more we could sample) so that meant Liver & Onions, Southern Fried Chicken, Fried Chicken Breast with Gravy, Pork Chops and Fish were all on the menu. And each option was served with your choice of mac & cheese, lima beans, collard greens, peas and fried okra and banana pudding or peach cobbler to boot.
But before the mains we did not think it polite if we did not first sample some appetizers. The fried mushrooms were succulent and light, the oysters that day were small – just as our very honest server Brittany told us before we ordered, so they lacked that salty brininess plumper mollusks would have provided. Then there was the seafood gumbo, thick, dark and exceptionally hearty, by far the best I have had this side of New Orleans. Simply delicious!
One of my guests said he was very pleasantly surprised by the liver and onions which he claims restaurants often get wrong. He described this specialty dish as tender, flavorful and perfectly cooked. I will have to take him at his word!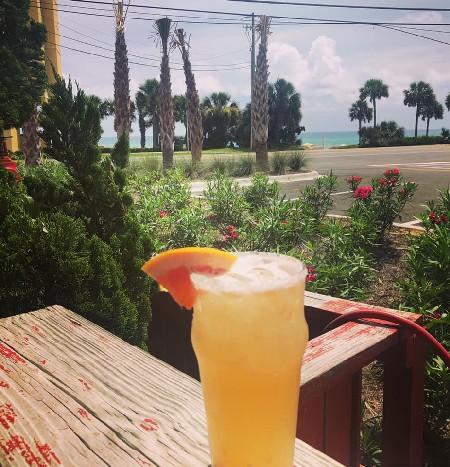 The fried chicken and fried chicken breast were both well-seasoned, perfectly cooked and not at all greasy. The BBQ flavored shrimp with cheese grits were out-of-this world! And there were certainly plenty of to-go boxes required as portions were all more than ample. Great value for money when you consider the Blue-Plate Specials are just $10.99
In conclusion, it was time, calories and money well spent. Brittany was attentive, with little wait time between refills of tea and adult beverages (Mike's has a full bar) and she was not at all flustered or annoyed by off-menu requests. Hometown charm, down home good cooking and all at a price that will make you want to return. All in all, Mike's Café and Oyster Bar was a delight.
Mike's Cafe  is located at  17554 Front Beach Rd, Panama City Beach, FL. Visit www.mikescafeandoysterbar.com
The post Restaurant Review – Mike's Café & Oyster Bar appeared first on South Walton Life | 30A News, Events and Community Information.
South Walton Life | 30A News, Events and Community Information South Walton Life | 30A News, Events and Community Information READ MORE