By Lori Leath Smith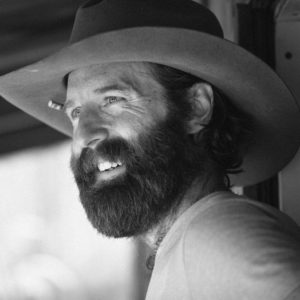 Longtime local and Destin Life favorite Sean Dietrich (sometimes better known as "Sean of the South") is a traveling storyteller, podcaster and Southern Living writer known for his daily column filled with stories of steel workers, church potlucks and trusty bloodhounds. His penned words seem to grant his readers a reason to believe there is good in the world—despite what they might have experienced to the contrary.
As a child he liked to write. He filled up notebooks with tales of the high-seas, shameless vixens, and steamy scenarios combining both of the aforementioned. His 5th-grade teacher found one of his notebooks and scanned through it. "She told me I wrote with too many commas," says Sean, "and encouraged me to pursue a career in construction work. That, old, woman, never, liked, me."
"Years later, I learned my teacher had left the school. She took a job at the Piggly Wiggly as a cashier. I went to visit the old girl, to show her the man I'd grown into," Sean says. "She seemed genuinely glad to see me. And I was just as glad to find her wearing that red apron for a living. After visiting for a few minutes, I realized something I'd never noticed before. Beneath her hard-shell exterior was a regular lady, working from nine to five for pennies. She was doing the best she could with her life. Just like me. Before I left, she asked me what kind of work I did. At the time, I worked in construction," Sean says.
Today, Sean is a columnist, novelist and podcast host known for his commentary on life in the American South. Pure, raw and transparent, long-time readers are well familiar with Sean's monthly column in Bay Life. His work has appeared also in Newsweek, Southern Living, Garden and Gun, The Tallahassee Democrat, Good Grit, South Magazine, Alabama Living, the Birmingham News, The Bitter Southerner, Thom Magazine, and The Mobile Press Register. He has authored 11 books and is the creator of the Sean of the South Podcast.
Recently, Sean posted "Second Chances," an eloquent blog post about his experience as a student at now Northwest Florida State College. A graduate of the Class of 2012, in 2018 he was the Against The Odds Award Recipient, a distinguished alumni winner, which is fitting for this popular and well-known writer and storyteller who has certainly beaten the odds…and overcome the words of his 5th-grade teacher. What happened one Saturday morning in his creative writing class, at then Okaloosa-Walton College, was a turning point. The teacher told Sean he was her favorite student. Until then, I'd never been anybody's favorite anything.
The truth is, I was a sad kid in an adult's body. And these professors believed in me. My literature professor told me I was "smart." Professor Domulot said I was "going places."
My English teacher said, "I think you could be a novelist one day."
I remember the exact day she said that. I almost cried after class."
Last year, he published Will the Circle Be Unbroken?: A Memoir of Learning to Believe You're Gonna Be Okay. Here Sean tells his own story for the first time. It is one that has been marked by both loss and love and has taken him on an unlikely path. Sean was only age 12 when he scattered his father's ashes from a mountain range. His father had been a man who lived for baseball. He was a steel worker with a ready wink, who once scaled a 50-ft. tree just to hang a tire swing for his son. But he also had been the stranger who tried to kidnap and kill Sean's mother before pulling the trigger on himself. He was a childhood hero who was now reduced to a man in a box. After his father's death, Sean dropped out of 7th grade and became a dishwasher, newspaper deliverer, and then a construction worker, to help his mother and sister scrape by. As a self-described "nobody with a sad story behind him," Sean still could not deny the glimmers of life's goodness.
Such goodness became even harder to deny when he met the love of his life, Jamie, at a fried chicken church potluck, and harder still when his lifelong love of storytelling led him to stages across the country, where he is now known and loved as "Sean of the South."
That 'Against The Odds Award' is certainly relevant and well-deserved for a person who can testify to the strength that lives within us all to stop the cycles of the past from laying claim to our future.
You can visit Sean at SeanDietrich.com, on Facebook: @seanofthesouth, Instagram: @seanofthesouth, Twitter: @seanofthesouth1, Show/Podcast: www.SeanoftheSouthShow.com.
SoWal Life's "Hometown Heroes" are sponsored by Northwest Florida State College. To read about more Hometown Hero graduates or for more information, call 850.837.8880 or visit nwfsc.edu.
The post Meet Our Hometown Hero: Sean Dietrich, An Overcomer appeared first on South Walton Life | 30A News, Events and Community Information.
South Walton Life | 30A News, Events and Community Information South Walton Life | 30A News, Events and Community Information READ MORE