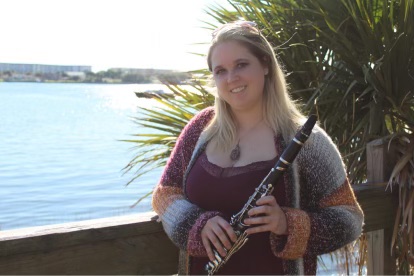 Katarina recalls always loving music. She first experienced her passion for playing instruments in elementary school on percussion. By middle school she had discovered a love of the woodwinds. During High School Katarina played in the highly competitive Niceville High School Eagle Pride Band. Followed by a seat on the Northwest Florida State College Jazz Band.
Miss Marshall  has also played in the National Jen Jazz Conference in New Orleans, a conference that  brings together jazz beginners and experts for a once-in-a lifetime experience. Part music festival, part networking, part education and all inspiration. This annual conference hosts thousands of people from around the globe.
Katarina shares that as saxophone became a part of her life, it allowed her to grow into other genres. She received classical training in her early years of school but moved towards Jazz and improvisational music within recent years of playing.  This has allowed her to be more adaptive to other genres such as Blues, Rock, Jazz, Ska, and contemporary music.
You will find Katarina Marshall participating at the 11th annual Pensacola Jazz Competition on March 15th of this year at Seville Quarter.  During her off time you can find Katarina playing with the local band Loyal Customers as well as fine dining establishments up and down the Emerald Coast. She records in a few local studios on the panhandle and plays independently with fellow musicians, friends, and the Jazz society of Pensacola.
Katarina is available for bookings for private parties, weddings, and track recording.  You can reach Miss Marshall at (352) – 278 – 6171
The post 30A Songwriter Radio Artist Spotlight: Katarina Marshall appeared first on South Walton Life | 30A News, Events and Community Information.
South Walton Life | 30A News, Events and Community Information South Walton Life | 30A News, Events and Community Information READ MORE