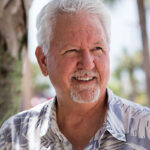 By Dave Holland
"As the time approached for him to be taken up to heaven, Jesus resolutely set out for Jerusalem. And he sent messengers on ahead, who went into a Samaritan village to get things ready for him; but the people there did not welcome him, because he was heading for Jerusalem. When the disciples James and John saw this, they asked, "Lord, do you want us to call fire down from heaven to destroy them?" But Jesus turned and rebuked them, and they went to another village." Luke 9:51-56, NIV.
Jesus saw the disciples returning, chests puffed out and faces swollen with anger. Self-righteous indignation drove their steps. Turns out, the Samaritans were not receptive to Christ and they didn't want Jesus to spend the night in their area. Rejection always stings.
Christ and His disciples left the clamoring crowds in their native region Galilee. The Lord performed many miracles and fed the multitudes there. His popularity caused people to push and shove to be near Jesus. Now, He "resolutely" turns south toward those who oppose Him–the religious centers in Judea and Jerusalem. The transition in Christ's life would prove deadly.
On the way to the Holy City, the disciples encounter the obstinate Samaritans. This rejection was a warm-up for Jerusalem and the unfolding of God's plan.
Samaritans were the descendants of the 10 Hebrew tribes who broke away from what we know as Judaism. They set up their own kingdom and religion. Over the years they intermarried with pagan peoples who diluted their faith further. As Jesus passes through, they are not interested in Him or his brand of religion.
The disciples, sent ahead to prepare accommodations, were denied service in Samaria. Practically, this meant that they would go without dinner and walk many more miles through the night before leaving Samaria. Stung by the Samaritan's racial and religious prejudice, the disciples want Jesus to call down fire from heaven to destroy them all. They are on the road with Christ, but not yet on the same page.
Jesus rebukes the disciple's angry response and moves on.
This passage shouts the question, "How do you react when treated badly?" The disciples demand vengeance, but Christ pivots away. This rejection was preparation for the cross ahead. It was an opportunity to love the unlovable, and the disciples failed.
Every Christian will travel the road to the cross. This path leads to self-denial. Jesus said that every disciple must pick up their cross and follow Him. Along the way, we will experience rejection. Will we react with anger like the disciples, or will we simply turn and follow Christ?
God loves the rejectors and the angry disciples. Author Brennan Manning wrote, "God has a single relentless stance toward us: He loves us. He is the only God man has ever heard of who loves sinners." Romans 5:8 affirms, "…while we were yet sinners, Christ died for us." All of us.
Rejection challenges our character. So, the question now becomes, "Will you choose to love people who reject or mistreat you?"
Jesus continues His mission, trudging through the night toward Jerusalem. The disciples follow, quiet as sheep.
How will you act in response to rejection? How will you respond to the bad behavior of others? Prejudice, racial tension, selfishness, rejection and all the unjust events of life are the proving grounds of love. This is the road to the cross. No cross, no crown.
Dave Holland pastored churches for 38 years before retiring in Destin. He recently released his new devotional-Bible study based on the Gospel of Luke titled "Extraordinary Jesus: Ignite Your Season of Miracles." You can get a copy of this book from his website, DaveHolland.org, or at Amazon.com. Pastor Dave is available to preach and teach in churches and conferences.
The post A Pastor's Ponderings: Tension and Prejudice? appeared first on South Walton Life | 30A News, Events and Community Information.
South Walton Life | 30A News, Events and Community Information South Walton Life | 30A News, Events and Community Information READ MORE