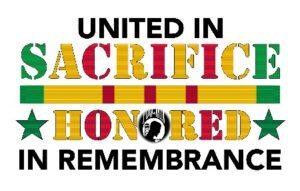 The Gulf Cemetery Association is pleased to announce that in conjunction with this year's Memorial Day ceremony, it will sponsor The Vietnam Traveling Memorial Wall© coming to Santa Rosa Beach throughout the Memorial Day Weekend 2021.  This year's theme for Memorial Day is "United in Sacrifice, Honored in Remembrance" and what better way to showcase this through the Vietnam Traveling Memorial Wall.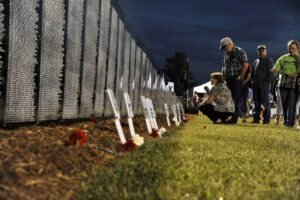 The Vietnam Traveling Memorial Wall© is a 3/5 scale of the Vietnam Memorial in Washington DC, it stands six feet tall at the center and covers almost 300 feet from end to end.  This Traveling Memorial stands as a reminder of the great sacrifices made during the Vietnam War. It was made for the purpose of helping heal and rekindle friendships and to allow people the opportunity to visit loved ones in their hometown who otherwise may not be able to make the trip to Washington. Special thanks to the Chapel at Crosspoint who have so graciously agreed to host the wall in their parking lot, which is located at 1477 S Co Hwy 393, Santa Rosa Beach.
The wall will be assembled on Thursday, May 27, 2021 and remain up through Monday, May 31, 2021.  The Vietnam Traveling Memorial Wall will be open to the public 24/7 through Memorial Day weekend, except for Sunday morning from the hours of 6am to 12pm to accommodate traffic flow and parking for Sunday services at the Chapel at Crosspoint. The wall will re-open to visitors on Sunday afternoon through Monday, May 31st. Volunteers are needed!
The Vietnam Traveling Memorial Wall will arrive and be assembled on Thursday, May 27, 2021.  It will be disassembled and depart on Tuesday, June 1, 2021.  Adult volunteers are needed to assist the assembly/disassembly effort.  A minimum of two adult Wall monitors will also need to man the Wall 24/7 in four-hour shifts.  All volunteers can schedule/sign-up for needed shifts on the bottom of the homepage at gulfcemetery.org.
The post Gulf Cemetery to Host The Vietnam Traveling Memorial Wall Memorial Day Weekend appeared first on South Walton Life | 30A News, Events and Community Information.