By Brittany Kirke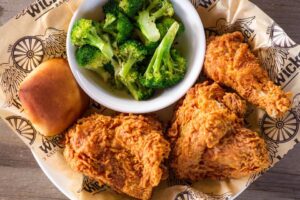 On April 20, 2012, Bill Buskell opened The Wicked Wheel Bar and Grill. Since then, it has become a renowned hotspot for fried chicken: it's been voted "Best Fried Chicken" in Bay County seven years in a row! Nine years later, Wicked Wheel continues to draw in their patrons with the deliciously varied flavors that come out of their kitchen.
There's nothing better than when you bite into that first piece of tender chicken: the crunch of the breading sparks an actual fireworks show in your mouth. Jared Knetzer, the marketing coordinator at the Wicked Wheel, tells us they use "fresh American farm-raised chickens with no steroids or antibiotics," giving it a more well-rounded taste. The chicken is then brined before they batter it with their own hand-crafted signature blend of spices and flour. They use a cottonseed oil blend to fry the batter which "enhances the flavors and is also better for you than most traditional frying oils."
Among the mouthwatering appetizer options that they offer, the Buffalo Chicken Dip is one for the books. The perfect amount of buffalo sauce to chicken ratio set on a crunchy tortilla chip hits your tongue with a creamy punch. If for whatever unthinkable reason you're not in the mood for a chicken dish (I'm channeling their smoked wings with the Alabama white sauce), they offer a number of other options including salads, fish and shrimp, burgers, and barbeque.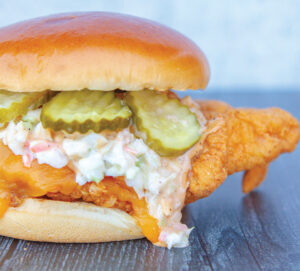 One of their most popular chicken entrees is the Wicked Chicken Sandwich. Made with premium chicken breast and deep-fried, it's topped with American cheese, homemade coleslaw, wicked sauce, and pickles. The coleslaw adds a wonderful sweetness and unique extra crunch to the sandwich-every bite leaves you wanting another.
To wash it all down, look to their signature drinks! They have their own take on a Bloody Mary called "The Wicked Mary." Fan favorites include the Gasoline Tea and their brand-new Bootlegger, which is strawberry lemonade mixed with vodka and 100 proof moonshine. They also offer craft beer on tap or you can order your personal favorite by the bottle.
When you first walk in, you'll notice the motorcycles and automobile parts decorating the restaurant. Buskell acquired these from friends/family and acquaintances. If you look close enough, you'll notice that a few of the motorcycles have faux license plates with the last names of their previous owners. Knetzer says that what makes them so unique is "the atmosphere and the experience. Where else on the beach can you sit on a motorcycle at the bar, or dine at a table next to a 1923 Ford T-Bucket?" Be sure to check out their gift shop before you leave!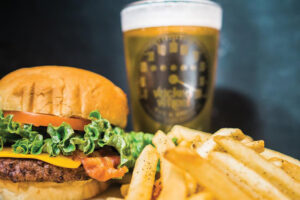 A message from the team at Wicked Wheel:
"Not only do we love seeing the loyalty of the community that visits us year-round, but we love seeing the generous hearts of all our neighbors in the area. The Wicked Wheel loves to give back to our community and help support local non-profit organizations, so when we hold events at The Barn to benefit these organizations, it is so awesome to see the amount of people that turn out to these to help us give back and support those who need it most. Thank you!"
Check out the wonderfully Wicked Wheel at 10025 Hutchison Blvd, Panama City Beach, FL. Also check out their website thewickedwheel.com for more info on the menu, specials, and events!
The post It's Time to Get Wicked! appeared first on South Walton Life | 30A News, Events and Community Information.