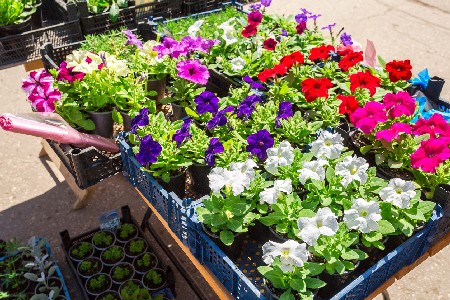 The Walton County Master Gardeners invite you to participate in their annual Tree & Plant Sale. Due to COVID concerns orders will be taken by email only and plant pickup will be scheduled. Orders will be accepted through Friday, November 12th, 2021. Plants will be scheduled for pickup Friday and Saturday, January 11th, and 12th 2022, at the Walton County Fair Grounds in DeFuniak Springs.
Please email us at waltonmg@ifas.ufl.edu to receive an order form and a three-page plant list of plants we are offering for sale. The list includes each plant's name, the size of the container it is in, and the sale price. Some plants may be listed more than once if multiple pot sizes are offered. The first page lists fruit-bearing plants which are not subject to sales tax. Plants listed on pages two and three are subject to 7% sales tax that will be calculated at the time you pick up your plants. Detailed plant information may be found at edis.ifas.ufl.edu. We will call you a few days before the pickup date to confirm your final order and price. Payment is due at pickup and can be made by cash with exact change or by check payable to the University of Florida.
On the order form, please print legibly your name, telephone number and your email address. Print the name of your selected plants, the size of grow container you want, and the price listed for each. Do not calculate sales tax on this form; this will be done when you pick up your plants. When you have completed the Order Form, email it back to us at waltonmg@ifas.ufl.edu. We will call you to confirm your order has been received. Orders will be taken as they are received so it is important you email the form back to us as soon as possible.
The Walton County Master Gardeners offer plants for sale that come from approved vendors and the plants are cold hardy for Northwest Florida. Master Gardeners will be at the Fair Grounds to answer your questions, direct you where to pick up plants, and assist with loading. We appreciate you supporting the local Master Gardener program.
The post Walton County Master Gardeners 2021 Tree and Plant sale appeared first on South Walton Life | 30A News, Events and Community Information.
South Walton Life | 30A News, Events and Community Information South Walton Life | 30A News, Events and Community Information READ MORE