The Cultural Arts Alliance of Walton County is excited to announce that early bird tickets are now on sale for the highly anticipated annual Valentine Tour of Homes & Gardens. The tour is known for providing a rare opportunity to enter some of South Walton's most interesting residences, showcasing stunning interiors, acclaimed architectural design and picturesque settings, which are sure to bring inspiration to tour goers' winter beach weekend.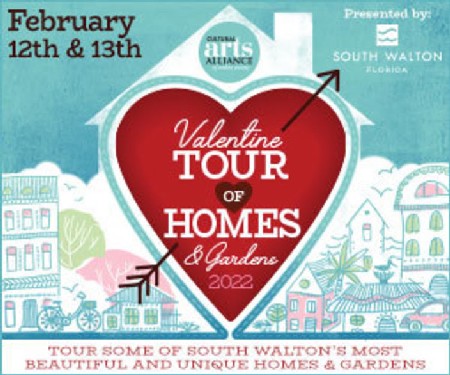 With a focus on location, this year's self-guided tour, which is presented by Visit South Walton with additional support from the Florida Department of State, Division of Arts and Culture, will emphasize outdoor living spaces, gardens and interesting courtyards. The event is scheduled for Saturday, Feb. 12 from 10 a.m. – 4 p.m. and Sunday, Feb. 13 from 12 p.m. – 4 p.m.
All net proceeds benefit the CAA's 'Art For All' Program, which provides support to Walton County schools, teachers, students, artists and arts organizations to further arts education in the community.
Tickets are $40 in advance through December 31, $45 beginning January 1, 2022 and $50 the days of the event, valid for the entire weekend with one entry per house. Tickets can be purchased in advance on the CAA's website, CulturalArtsAlliance.com. Tickets will also be available for purchase at several of the homes throughout the weekend.
Please note that as most of these homes are private residences, they cannot be guaranteed as ADA compliant. Please notify the CAA office in advance for questions regarding access, and best efforts will be made for accommodations.
To volunteer, visit culturalartsalliance.com/volunteer. Volunteers receive a complimentary event ticket.
For more information about the Valentine Tour of Homes and the Cultural Arts Alliance of Walton County, call 850-622-5970 or visit CulturalArtsAlliance.com.
The post Cultural Arts Alliance Announces Valentine Tour of Homes & Gardens Feb 12 & 13 appeared first on South Walton Life | 30A News, Events and Community Information.
South Walton Life | 30A News, Events and Community Information South Walton Life | 30A News, Events and Community Information READ MORE