Friday, January 14, 6:00 pm  Nick's on the Bay Annual Bonfire
Nick's Seafood Restaurant
Come out to Nick's on the Bay on Friday, January 14th at 6PM for the Annual Bonfire. Enjoy food, drinks and sunset from one of the best views on the bay. Don't miss the local's favorite outdoor gathering of the year! Live Music begins at 6PM with Carson Carlisle and 8PM with The U.S. Band. NO cover charge. All ages and pets are welcome. Come out for some good ol' fashioned fun with friends.
7585 Hwy 20, Freeport FL, on the Choctawhatchee Bay!
Monday, January 17, 5-8pm Emily Bass @ Kith + Kin Monday Night Live   
Join  Kith + Kin Coffee for Monday Night Live featuring local artists from 5 – 8 PM. Bring your friends and family to enjoy a cup of coffee or a local draft beer while enjoying live music. January Schedule: 17: Emily Bass, 24: Kyle LaMonica, 31: Max McCann. Located on the west end of 30A near the entrance to Topsail Hill Preserve State Park, Kith + Kin was founded on a love of coffee, a passion for adventure, and a heart for community. Visitors and locals alike are encouraged to go for the coffee, stay for the community. Learn more at www.kithandkin30a.com/. 7525 W. County Highway 30A, Santa Rosa Beach.
Saturday, January 22, 6 – 9pm
Warehouse 360 Concert: Blues/Rock/Soul Masters Tribute Show
A Simple Faith Church Join South Walton  locals at Warehouse 360 on January 22 for a great night featuring a Blues, Rock and Soul Masters Tribute Show from 6:00-9:00pm. The Backsliders, Lucky Strike Retros, and Laura Vida bring you the very best of Blues, Soul, and Classic Rock. From Gary Moore and Muddy Waters to BB KING and ETTA James; Neil Young, Bob Dylan to ZZ Top and Pink Floyd. A music odyssey you want to see! Ticket Price – $15. Click HERE to purchase tickets!
A Simple Faith Church, 360 WRM Circle, Blue Mountain Beach Industrial Park, Santa Rosa Beach, Call  850- 687-0662 for more information.
Thursday, January 27, 2022 | 6 p.m.
Neyers Vineyard Wine Dinner
Hemingway Room, Join Havana Beach Bar & Grill for a special one-night event featuring Neyers Vineyard. Guest sommelier Julie Pepi will guide guests through a five-course dinner, exquisitely complemented with wine pairings from Neyers Vineyards (St. Helena, CA). $175+ per person. The event is limited to 20 guests, and reservations are required Call 850-588-2882. Credit card information will be taken at time of reservation. 63 Main St, Rosemary Beach.
Friday, January 28, 5:30 pm to 9:00 pm Red Bar Jazz Band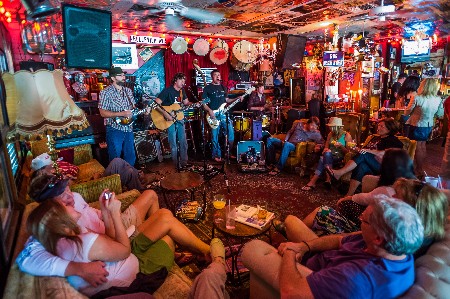 South Walton visitors and locals alike love the Red Bar, a jumpin' little joint off of Scenic 30A in the cozy laid back beach town of Grayton Beach FL – and The Red Bar Jazz Band is a fixture thanks to restaurant owners Oli and Philippe Petitc. The band lives on after the passing of John "Jabo" Starks (1937 -2018), leader of the Red Bar Jazz Band for many years after a stellar career as a funk and blues drummer, most notably with James Brown. The Red Bar Jazz Band plays almost nightly. The party gets cranked up a notch after the dinner crowd thins creating a more funky atmosphere. Don't be surprised to spot celebrities here late at night. But please, everybody just wants to chill at The Red Bar.Follow The Red Bar on Facebook to see what Oli's talking about today. 70 Hotz Ave.,Grayton Beach.
The post January 2022 Entertainment in South Walton appeared first on South Walton Life | 30A News, Events and Community Information.