There's been a lot of activity going on with trees lately, the planting of them that is, thanks to Trees on the Coast and your support. Trees on the Coast was founded with the mission to beautify our community through tree plantings. "It's goal every year is to plant 100 trees in Okaloosa and Walton Counties," said Bobby Wagner, director.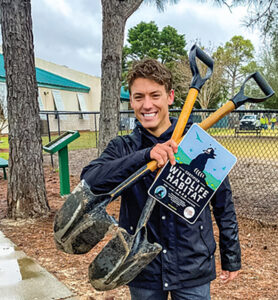 For the recent Florida's Arbor Day celebration on January 21 (National Arbor Day is the last Friday in April), how fitting that 15 native live oak trees were planted in Defuniak Springs, the birthplace of Arbor Day in Florida, to commemorate. The City of DeFuniak Springs celebrates the occasion with the Florida Chautauqua Association with a tree planting ceremony with notable or famous speakers attending the historic Florida Chautauqua Assembly. The Association orchestrates the annual Assembly, a 4-day educational program mirroring the original, multi-week events which took place in DeFuniak Springs between 1885 and 1927. "With the help of Destin city park and rec staff, local volunteers and Thomas Hicks nursery, this event was a huge success," said Bobby.
Recently, in Destin, Trees on the Coast also planted $3,000 worth of trees–17 live oaks (7-8 ft.)–at Kell-Aire Nature Walk park (community of Airport Road) and at the Destin Dog Park on Commons Drive.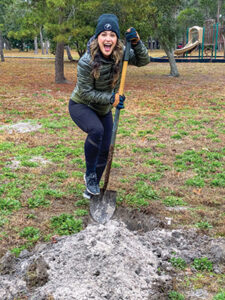 In addition to its tree-planting mission, Trees on the Coast has taken on a project to certify Okaloosa County as a Community Wildlife Habitat™. The National Wildlife Federation's Community Wildlife Habitat program partners with cities, towns, counties, neighborhoods and communities to become healthier, greener and more wildlife-friendly. Community Wildlife Habitats garden and landscape with wildlife in mind, promote the use of native trees and plants, work to reduce or eliminate the use of pesticides and chemicals, and integrate wildlife-friendly practices into sustainability plans and park master plans. Through this program, our community would be able to enhance and restore wildlife habitat and more. For more information on this project, please reach out to Jessica Valik with the TDD Okaloosa County at jvalek@myokaloosa.com.
Bobby said it's due to the support and sponsorship of our readers and the community businesses and individuals that they are able to help our communities thrive through these activities. "Trees on the Coast is a nonprofit organization with 100% of its donations going toward beautifying our community," said Bobby. "Donating $300 will put one tree into the ground, and with your help, we could potentially plant between $30 to $50 thousand to plant trees in Okaloosa and Walton Counties." You can donate at treesonthecoast.com or send a check to 422 Anderson Dr., Destin, Fla. 32541.
The post Planting for a Purpose appeared first on South Walton Life | 30A News, Events and Community Information.