By Nathaneal Fisher, ECTC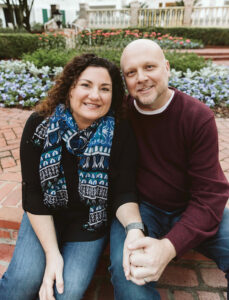 Ahhh…February, the month of LOVE. In 2022, we are determined to have hope and to continue providing you, our community, with excellent professional and educational theatre.
To all of our VIP Members who have consistently been there for us, renewing your membership, increasing your membership level or donating on top of your membership, you are the wind beneath our wings. Thank you for all the ways you have stepped up and kept us going throughout these challenging past few years.
To all of our Sponsors who generously give and remain faithful supporters, your partnership means the world to us. We love it when you come to the theatre, send your clients/customers to shows and appreciate your advocacy for theatre in our community.
To all of our loyal Patrons and future loyal patrons, we look forward to seeing you at each show and we appreciate all of the times you have told your neighbor/cousin/friend/stylist/cashier about ECTC.
To all of our Leading Ladies and Volunteers, you are the force that keeps us going and you do it all with a smile. Thank you for all of the ways you serve and support ECTC—we salute you!
To all of our precious Students who bring joy and laughter to our space every day, thank you for sharing your smiles and energy with your theatre family. We find such joy every time you make a new discovery or find more and more self-confidence as you sing and act your heart out on stage.
To YOU, our Community here in Miramar Beach, Santa Rosa Beach, Destin and beyond, you are the heartbeat of everything we do at ECTC. Whether you are a VIP member, sponsor, patron, volunteer, or student, you are the reason ECTC is a living, thriving entity because of your involvement.
This month of Valentines is busy over at ECTC. So, come see a show, have a laugh and feel the love!
The Marvelous Wonderettes is showing from February 10-13 (and March 3-6). Wipe that lipstick off your collar and time travel to the 1958 Springfield Prom with us where you can be serenaded with all the classics like "Lollipop" and "Dream Lover." Featuring over 30 classic '50s and '60s hits, The Marvelous Wonderettes will keep you smiling in this must-take musical trip down memory lane! Great music, fine wine and a good time are central to this cabaret stage addition to our professional season.
For more love and laughter, don't miss 2 Across February 18-27, an intriguing look at two strangers on the San Francisco BART train, and how a crossword puzzle teaches them each a little more about life and its unpredictability. This is the type of show ECTC fans have come to love. If you enjoyed Bakersfield Mist, Dancing Lessons and Maytag Virgin, you are going to love the comedy and connection that take place in 2 Across.
Finally, our Storyteller Series is not to be missed with your ECTC favorites on stage: Shirley Simpson as Katherine Hepburn in Katharine Hepburn and Allan Tuttle as Harry Truman in Give Em Hell Harry are all stories that share glimpses into history.
Come join us for some laughter, humor, history and fun as we celebrate the month of love! More information, registration information and ticket purchases can all happen at www.EmeraldCoastTheatre.org or call the box office at 850-684-0323.
Upcoming Schedule:
2 Across
Written by Jerry Mayer. Mainstage Dramatic Comedy
February 18-27
Thursday – Saturday at 7:30 p.m., Sundays at 2:30 p.m.
Katharine Hepburn by Shirley Simpson
March 1 at 7:30 p.m.
The Marvelous Wonderettes
Musical by Roger Bean. Cabaret Stage: Musical Revue.
March 3-6
Thursdays – Saturdays at 7:30 p.m., Sundays at 2:30 p.m.
The post ECTC: A Love Note to Our Community appeared first on South Walton Life | 30A News, Events and Community Information.