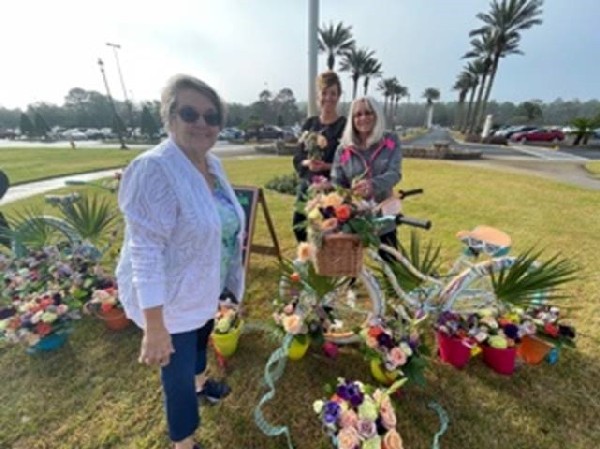 Seagrove Garden Club members, Carolyn Dzelzkalns, foreground; Jean Knittel and Juls Greybar, create a Flower Wave Thursday with donated flowers from a corporate event in front of Ascension Sacred Heart Emerald Coast in Santa Rosa Beach. The Flower Wave used repurposed flowers and beach cruisers to thank doctors, nurses and staff at the hospital for their hard work during the pandemic. Like a wave, the display appeared and disappeared quickly as passersby were urged to take the flowers to enjoy.  (Photo by Seagrove Garden Club).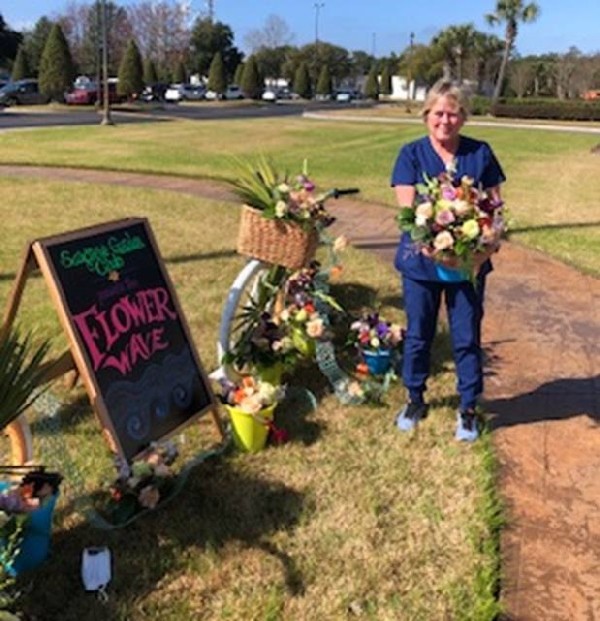 Dorothy Voigtlander, a nurse at Ascension Sacred Heart Emerald Coast, grabs a bucket of repurposed flowers to share with co-workers at the hospital in Santa Rosa Beach on Thursday from a flower display created by the Seagrove Garden Club dubbed Flower Wave. (Photo by Seagrove Garden Club)
A Flower Wave created by members of the Seagrove Garden Club appeared Thursday outside the front door of Ascension Sacred Heart Emerald Coast. Combining donated flowers and a repurposed beach cruiser, the display featured free flowers to brighten the day of the hospital's hard-working doctors, nurses and staff. The wave disappeared quickly as staffers and passersby enjoyed taking flowers from the display. Repurposing flowers from local weddings is a weekly activity for garden club members and this corporate flower donation created by Forget Me Knot Florals gave club members another way to repurpose blooms.  For more information about the SEagrove Garden Club please contact Eileen O'Grady (281-979-4783).
The post Seagrove Garden's Flower Wave debuts in Santa Rosa Beach appeared first on South Walton Life | 30A News, Events and Community Information.