By Kenneth Books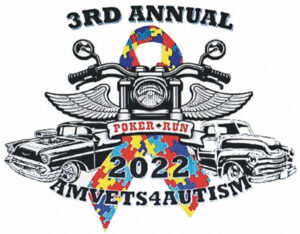 There is no cure for Autism Spectrum Disorder. And the expenses for families with a member who has autism are steep. The Centers for Disease Control estimates that, in addition to medical costs, intensive behavioral interventions for children with autism cost $40,000 to $60,000 per child per year.
Amvets Post 78 of Valparaiso is there to help.
On April 2, the veteran's organization will sponsor the third annual Amvets 4 Autism All Wheels Poker Run, to benefit the Autism Spectrum on the Emerald Coast.
This is the third such event the Amvets have held, according to Geno Teichert, a member of the board of trustees. And its growth has been phenomenal.
"Last year, we had at least 75 entrants," Teichert said. "We have a bunch. A lot of people go to the stops and don't make it back to the post."
The poker run will feature five stops. Leaving at 10:30 a.m. from the Amvets post, riders will stop at Nick's Seafood in Freeport, Amvets Post 178 in DeFuniak Springs, Amvets Post 35 in Crestview and return to the local post about 3:30 p.m., where they'll receive a meal and enjoy live entertainment. The cost is $25 per rider and $15 per passenger. The first 100 registrants receive a free T-shirt. Registration kicks off at 9 a.m. and coffee and donuts will be available.
"It's over by 5 or 6, Teichert said. "It's a long day, but we do it for the kids. We just want a bunch of riders. The more the better, the more money it makes."
The first year of the event garnered about $4,000. Last year, it brought in about $9,000.
Numerous valuable door prizes will be awarded, such as a $500 gift certificate for Jamie's Gun Shop. "We're getting sponsors," Teichert said. "A lot of grocery stores give us gift certificates."
Autism is a neurodevelopmental disorder characterized by difficulties with social interaction and communication, and by restricted and repetitive behavior.
People with autism might repeat certain behaviors and might not want change in their daily activities. Many people with ASD also have different ways of learning, paying attention, or reacting to things. Signs of ASD begin during early childhood and typically last throughout a person's life.
The Centers for Disease Control and Prevention (CDC) estimates that one in 68 children in the U.S. have autism. The prevalence is 1 in 42 for boys and 1 in 189 for girls. These rates yield a gender ratio of about five boys for every girl.
The post Amvets Set Ride To Fight Autism appeared first on South Walton Life | 30A News, Events and Community Information.