By Will Estell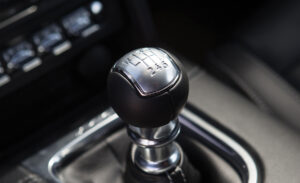 If you're an automotive junky like me, and anywhere north of age 30, you can probably remember a day when all the cool cars had stick shifts and three pedals. It just seemed like a part of driving; that feeling of being at one with the car often associated with effortlessly—and oftentimes aggressively—shifting through the gears, while feeling a big smile come across your face that made you feel as if you could race cars for a living.
Over the past 20 years, however, increased technology brought the end of manual transmission cars being quicker than their auto shifting counterparts of the same model. This led to less manuals being produced, until such time that many people under 30 never even learned to drive one. Nowadays, making a stick-shift about the best automobile theft deterrent device you can have. With only 27 new cars even available in manual formats for the 2022 year, here are some of the sportier ones that can still put that big smile on your face as you run through the gears.
BMW M 3, M 4 and 2 Series
As someone who loves the responsive drive of a BMW, I'm encouraged that the brand decided to continue offering a manual trans in at least some models. My wife and I own a classic M Roadster as a weekend/fun car, and as cool as it is with the top down and that quad exhaust roaring, I can't imagine that car being even half as much fun if it was an automatic.
All M3 cars since the original E30 offered a manual, and BMW has chosen to keep that an option in their new M 2, 3 and 4 cars also. I mean who'd want 473 hp in a new M3 and not be able to clutch and shift? To be fair, I had a 4 Series coupe a few daily drivers ago, and I did enjoy that automatic with its paddle shifters. In addition to the M3 and M4 variants, rear-drive 230i, M240i, M2 Competition, and M2 CS can all be had with a stick.
Chevy Camaro
The brand with the blue bowtie might not offer a manual in the new mid-engine Corvette, but you can still get a six-speed stick in every version of the Camaro. So, whether you choose the base turbo 2.0, the ZL1 or 1LE with the rambunctious supercharged 6.2-liter V-8, you can still show your muscle car's muscle while flexing your own a little, too.
Ford Mustang
I get that a lot of people probably haven't been opting for manuals in their pony cars for decades. But, the fact that you can is cool. Every 2022 model—other than the range-topping Shelby GT500—offers a manual option, whether you choose the turbo-four, 5.0 GT, the 480-hp Bullitt (probably my favorite current Stang) or the Mach 1.
Mazda MX-5 Miata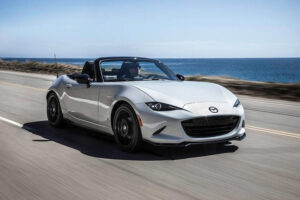 Contrary to what some may think about a Miata, it's regarded by most true auto aficionados to be one of the purest back-to-basic sportscars you can own. Pretty much what owning an early 70's Lotus Elise was five decades ago… but with reliable mechanicals in the Miata.
Ever since the first generation car hit the U.S. market in 1990, the Miata has offered a manual transmission to accompany the little rear-drive's sporty handling, peppy high-revving four, and well-balanced suspension. Driving a Miata at half its potential is often more fun than driving most cars… and the manual trans certainly plays a big part in that equation.
Toyota 86 and Subaru BRZ
I'm grouping these fun little sportscars together since the Toyota 86 and Subaru BRZ have been co-developed from the beginning—back when the 86 was originally badged as a Scion FRS. Both of these well-balanced 2+2s were reworked offering new designs, in and out, for 2022. Though each car offers a different engine based on its individual brand, they're very much alike in every other way; including the fact that both can be had with a six-speed manual.
Porsche 911, 718 Boxster, and 718 Cayman
I hope we never see a time when you can't get a new Porsche sportscar with a manual trans. Though having owned seven Porsches over the years, I understand why some people who buy them as daily drivers choose the ultra-convenient, and fast shifting, dual-clutch automatics.
For 2022, every variation of Porsche's mid-engine Boxster and Cayman comes with a stick as standard equipment, while the automatic is an option. In fact, the six-speed remains the only transmission available in the ultra-cool Boxster Spyder and race-bred Cayman GT4 iterations.
As for the iconic 911, every model comes standard with a manual, with the dual-clutch automatic available as the no-extra-cost option. Personally, I can't imagine buying a 500 hp 911 GT3 and not being able to dump the clutch and sling the rear-end out while laying black marks through first, second and third. Different strokes for different folks though.
The post Sticking it Out: Fun Drivers You Can Still Buy with a Manual appeared first on South Walton Life | 30A News, Events and Community Information.