The Exciting and Historic Arts Experience Returns During Art Month
Saturday, May 7th | 10 a.m. – 7 p.m. • Sunday, May 8 | 10 a.m. – 5 p.m.
Grand Boulevard
By Lori Leath Smith
As a child growing up in Grayton Beach in the 80s, Jennifer Steele never dreamed she'd one day become the director of a non-profit that would help cultivate the arts in our region. She just knew she loved visiting the little art shop of local Grayton Beach artist Susan Foster where she would buy postcards and photos. Susan's gallery was her first experience with fine art and as much a part of young Jennifer's childhood memories as Grayton Beach itself.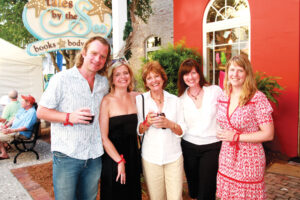 Susan, along with another local Jan Clarke, dreamed of having an art festival with other local artists to help bring the community together to provide a sense of community the art world provides. Susan and Jan began mentioning their arts festival idea to other locals such as Van Ness Butler, and the buzz began with folks coming into the gallery talking excitedly. The Walton County Tourist Development Council, who also administered the festival's first TDC grant, recommended they schedule the event during a slower time of year.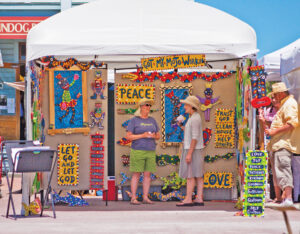 The rest is history. In 1989, with a small community gathering, the first Grayton Beach Fine Arts Festival, now called ArtsQuest, was born! Early organizers chose Mother's Day weekend with the event becoming one of the first in our area to promote a "shoulder season."
Many locals, all volunteers and names you might still recognize today, were involved in this first endeavor including Jeff Ellis, Chris and Manny Chavez, Malcolm Patterson, Paul Digiamico, Doug Krumel, Nicky Frye, Jack Houston, Hilda McDonald, Kitty Tyler and several more. Through the years, it evolved into a weekend event and has moved to various locations such as Eden State Gardens, Seaside and The Village of Baytowne Wharf to accommodate its growth.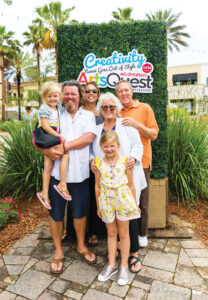 In the meantime, Jennifer was growing up and witnessing it all happen in her hometown. Today, 34 years since the festival's inception, Jennifer is the Cultural Arts Alliance (CAA) Executive Director and ArtsQuest is one of the largest juried art shows in the region bringing in thousands of attendees from all over. Having evolved into much more than a community gathering, in a VIE Magazine article, Jennifer describes ArtsQuest as "an intricate and beautifully detailed tapestry, woven over the years by locals tooled with varying backgrounds, resources and talents."
Eventually, realizing the need for a non-profit organization to help cultivate the arts in Walton County, the CAA was formed as the official local arts agency. Its vision is to continue to make Walton County a home and destination for cultural and artistic excellence where lives are enriched, the economy is stimulated and the community is strengthened through the arts. It offers support, connection and access opportunities for all forms of art, every variety of maker, all levels of learners, and especially, art lovers all throughout the year.
Through sponsorships, advocacy, funding and educational programs, the CAA directly connects people to all things art related. ArtsQuest was the first event the CAA ever produced and has truly become a beloved CAA signature event — one of the most significant ways CAA is able to continue to fulfill its mission. It bridges the gap for those who either lack access to the arts or could uniquely benefit from the experience.
Each year, the CAA produces popular, large-scale events, including the 30A Songwriters Festival, Valentine Tour of Homes, ArtsQuest Fine Arts Festival and the Flutterby Children's Arts Festival; operates The Foster Gallery, a local artist collective showcasing art works from more than 30 local artists in a quarterly rotation; and also presents over 250 exciting and educational art workshops in its offices at the Bayou Arts Center. Further, the CAA recently partnered with the South Walton Artificial Reef Association to launch the nation's first permanent Underwater Museum of Art off the coast of Grayton Beach State Park. Visit umafl.org to learn more about this Art in Public Spaces program that is expanding the county's artificial reef system. The CAA also provides much-needed arts funding through its Art For All grant program to Walton County's teachers, students, artists and arts organizations.
Still a Mother's Day weekend tradition, this year's ArtsQuest, May 7 and 8, is being hosted by Grand Boulevard at Sandestin and features exhibiting national, regional and local artists as well as art workshops and live art demonstrations. With continuing support from Visit South Walton and additional support from the Florida Department of State, Division of Arts & Culture and Emerald Coast Magazine, the festival will provide an opportunity to view and purchase original art from more than 100 artists who convene each year from throughout the U.S. They will display their original artwork in various mediums including, but not limited to, ceramics, glass, oil and acrylics, photography, sculpture, metal and wood. They will also compete for awards and cash prizes totaling $10,000. Further, the festival will offer heritage art demonstrations, a CAA member artist exhibit, a Walton County student exhibit, continuous live music and entertainment and "ImagiNation: where kids rule." A full cash bar will be available throughout the weekend in Grand Park.
Y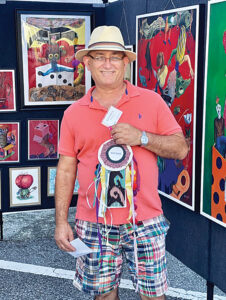 ou will find this year's featured artist, Orestes Barrios Marañón, who was also the 2021 ArtsQuest 'Best in Show' winner, at the event. His featured piece, "Fable In Eden," is a parody of fables and everyday life, creating stories with each of the characters that live in it. His wide range of work will be on display and "Fable In Eden" is the featured image on all ArtsQuest marketing materials.
An independent engraver, painter, cartoonist, sculptor, designer, set designer and children's book illustrator, Orestes was born in Cuba in 1963, studied at the Provincial School of Arts of Pinar del Rio specializing in plastic arts and graduated from the National School of Arts "Cubanacan" in Havana in 1983. 
Orestes has received more than 20 national and international awards for his artistic work as well as various recognitions for his teaching. He has had eight personal art exhibitions and participated in more than 70 collective exhibitions in Cuba, Canada, Germany, Argentina, Spain, France, Uruguay and the U.S.
ArtsQuest is now part of a full month of art activities in May! Art Month Walton County is a collaboration of visual, performing and literary arts events presented in diverse formats and venues throughout the county. It includes "Under the Sea"–a fundraiser for the Underwater Museum of Art, Digital Graffiti Festival at Alys Beach, the Longleaf Writers Conference, Music on Main in DeFuniak Springs, Sinfonia Goes Pop, Xanadu–a production from Emerald Coast Theatre Company, gallery events and more.
Would you like to help and join the rich history of volunteers for ArtsQuest? Sign up at CulturalArtsAlliance.com/volunteer. ArtsQuest will happen rain or shine. Open to the public with only a $5 admission donation requested, visit CulturalArtsAlliance.com or see the inserted Art Month program for more information. Destin Life looks forward to seeing you there!
The post It's Almost Time for ArtsQuest May 5-7! appeared first on South Walton Life | 30A News, Events and Community Information.