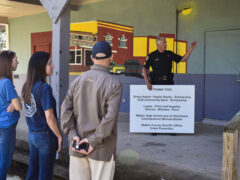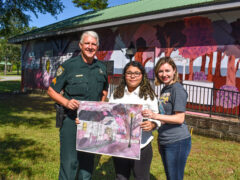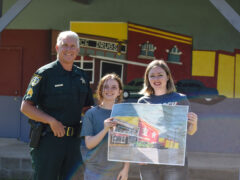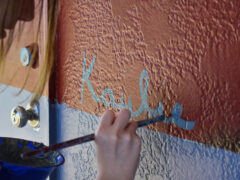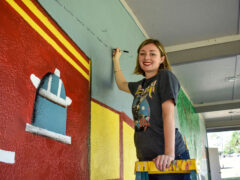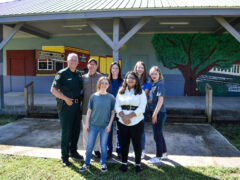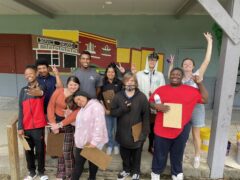 June 2, 2022
WALTON COUNTY, Fla— Wee Care Park has a new splash of color thanks to Walton High School Art Students.
The "Art in the Park" initiative, started by the Walton County Sheriff's Office to help beautify parks across the county, has made its way to DeFuniak Springs.
Two students, Hiromi Flores and Kaylie Finch were selected to have their artwork featured as murals at the park and received $500 scholarships from CCB Community Bank and Naylors Realty.
"I was looking at older pictures of DeFuniak Springs and wanted to paint something people could relate to," said Finch. Her mural is a depiction of the old Downtown DeFuniak Springs, specifically the drug store. "I'm so glad folks who have come down here have felt a connection to it."
"I wanted to represent what this place means to me," said Flores, who moved to DeFuniak Springs with her mother, and recalls being inspired by the spirit of the town. "I chose the library because I moved from a place that didn't have anything like that. I remember my first visit; I went inside; it was morning and new light was coming in – it was so magical. I'll never forget that."
The girl's pieces were selected out of more than 60 submissions narrowed down by school administration and Walton County Commissioner Mike Barker.
Walton High Art Teacher Annamiche Dotson garnered student interest after being approached by Walton County Sheriff's Office Crime Prevention Sergeant Wendel about spreading "Art in the Park" to Wee Care Park.
The first brush stroke took form in April of 2021 when residents sought a way to improve the park's appearance in the Driftwood Estates community in Santa Rosa Beach. Sergeant Wendel inquired with businesses and community leaders to participate, and South Walton High School Students became the first beneficiaries of the effort.
"This has been a labor of love and it's so rewarding to see the look on the kid's faces when their artwork comes to life," said Wendel.
Walton County Sheriff's Office would like to say a special thank you to Lowes and Sherwin Williams for your continued support of our "Art in the Park" effort and congratulations to the artists.
RELATED ARTICLE:  WCSO Partners with Driftwood Estates to Bring "Art in the Park"
The post
WALTON HIGH STUDENTS PAINT THE TOWN; WCSO "ART IN THE PARK" MURALS COME TO LIFE AT WEE CARE PARK
first appeared on
Walton County Sheriff's Office, FL
.