The Walton County Tourism Department recently released its annual tourism update for 2021, highlighting the positive impacts of tourism in Walton County.
"Despite the lingering challenges we still face due to the pandemic, the tourism economy in Walton County remains strong and resilient," says Matt Algarin, director of communications for the Walton County Tourism Department. "We owe the hardworking men and women in our retail, restaurant and hospitality sectors a huge 'thank you' for helping provide our visitors with incredible service and memorable experiences."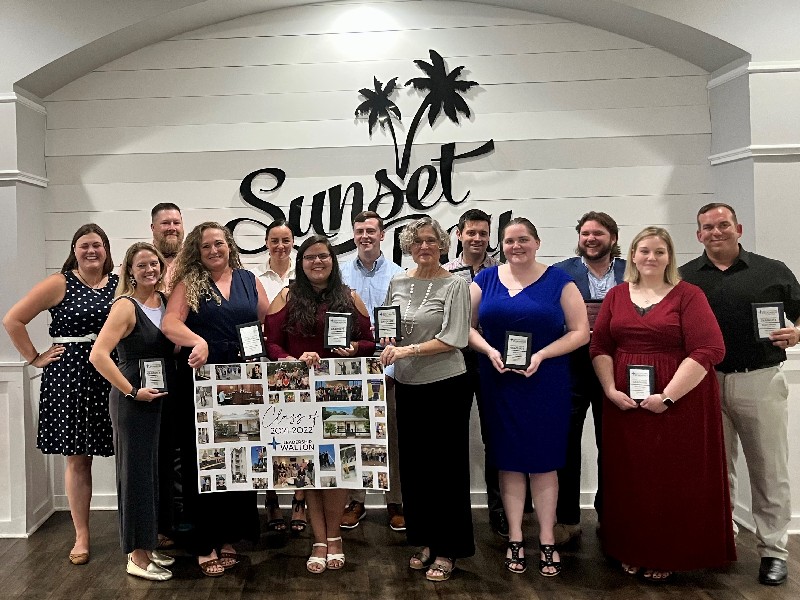 We all know that tourism is the number one economic driver in Walton County. In fact, tourism supported more than 47,700 jobs in 2021. Incredibly, visitors spent $1,040 each day, amounting to a staggering $4.8 billion in direct spending alone. All of that added up to a $7.1 billion economic impact for the community.
So, what does that mean for Walton County's residents? Well, it means savings. Visitors pay more than 67% of all the taxes collected, saving Walton County households an average of $1,695. Also, visitors account for 80.2% of all retail spending in Walton County, which directly supports local businesses.
The tourism department is funded by what's commonly referred to as a "bed tax." In Walton County, a 5% bed tax is collected on all short-term rental stays of six months or less in accommodations south of Choctawhatchee Bay, as well as a 2% bed tax on short-term rentals north of the Bay. Walton County residents do not pay a bed tax unless they are taking a "staycation" in a local accommodation.
Bed tax funds are also used to support various community organizations and programs, such as the South Walton Fire District's Beach Safety/Lifeguard program, the Walton County Sheriff's Office, turtle nest monitoring, the Cultural Arts Alliance of Walton County, International Coastal Cleanup, the South Walton Artificial Reef Association, and various programing through the local state parks.
Funding also helps provide and maintain local infrastructure and amenities that residents and visitors alike can enjoy. The tourism department has purchased properties throughout the southern part of the county to increase the availability of parking, and it's actively evaluating properties that can be purchased as new beach accesses.
The tourism department's beach operations/maintenance team was also busy in 2021, completing more than $2 million in destination improvements. These hard-working men and women maintain and clean 20 miles of beach, 20.5-miles of multi-use pathways, nine regional beach accesses, 42 neighborhoods beach accesses and 10 Bay and lake access points.
That's a lot of heavy lifting and dedication to keeping Walton County beautiful. And all of this would not be possible without a thriving tourism economy.
For more information about the impact of tourism in Walton County, please visit www.visitsouthwalton.com.
Walton County Tourism Department Graduates Three From Leadership Walton Program
The Walton County Tourism Department is celebrating the recent graduations of Christy Gibson, Patti Blake, and Garrison Davis from the Walton Area Chamber's Leadership Walton course.
"We are incredibly proud of our team's accomplishments and their dedication to immersing themselves in the community," says Matt Algarin, director of communications for the Walton County Tourism Department. "Investing in programs like this not only helps them grow as professionals, but it also helps support our community partners."
The eight-month long course consists of multiple Dale Carnegie class sessions, team building exercises, and site visitations to better understand the infrastructure of Walton County. The class also receives presentations from organizations in the area and chooses one entity to focus on for their class project. This year's class chose to raise money for Safe Connections, a child advocacy center focused on providing safe meeting spaces for families. Along with raising funds the class also volunteered countless hours to give the property a facelift.
The tourism department remains invested in developing its staff and the relationships with its partners in the community. Investing in these partnerships allows the staff to network with other professionals in the community and enhance their knowledge of the area. As Walton County continues to grow, the importance of building community leaders becomes ever more important.
The Walton Area Chamber's 2022-23 Leadership Walton class is currently accepting applications for anyone interested in completing the course. For more information on the program or applications please visit: www.waltonareachamber.com/leadership-walton/
The post Walton County Tourism Department Releases Annual Update appeared first on South Walton Life | 30A News, Events and Community Information.