By Lisa Cyr,
Patriotic music comes in all shapes and sizes from anthems and marches to folk and rock but is united by one sentiment: a sense of pride and belonging in the country we call home.  Especially as we enter into summer and with the 4th of July activities fast approaching, a reliable playlist of patriotic tunes is the perfect accompaniment to a barbecue party, road trip, or family get-together.
Musicians over the years have provided us with countless heartfelt tunes to celebrate the United States and those who have served it. Let's look at the history behind some of the nation's favorite tracks.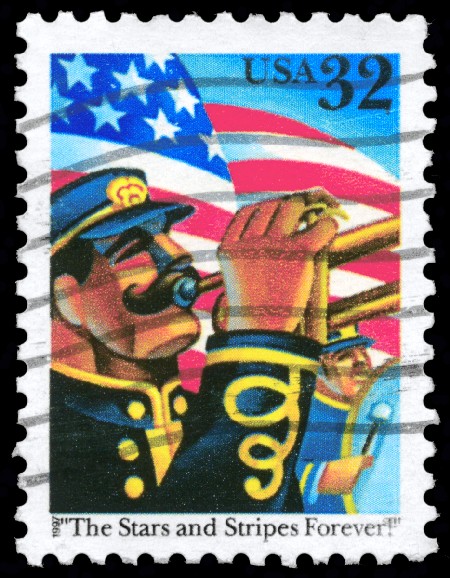 'God Bless the USA' – Lee Greenwood
Also known as 'Proud to Be an American', this soulful ballad written by country artist Lee Greenwood in the early 80s is sure to be a morale booster. Its message is simple: a devotion to the country, the people, and respect for the armed forces. Released in 1984, it reached No. 7 on the country charts and was played at Reagan's Republican National Convention in the same year.  It is a popular anthem during times of crisis in America and has many notable versions, including Beyoncé's version which premiered in 2011 and raised funds to aid those affected by the 9/11 terror attacks.
'America the Beautiful' – Ray Charles
Considered one of the greatest moments in history for patriotic music, Ray Charles took to the stage at the World Series in October 2001 to sing 'America the Beautiful'. Just weeks after the tragedy of 9/11, his performance left the sold-out stadium of grieving Americans inspired to unite and rebuild after the tragedy. The song is based on a poem by college professor Katharine Lee Bates, written in 1893 after she visited the summit of Pikes Peak in Colorado – one of the tallest mountains in the US. In 1976, Ray Charles' 'America the Beautiful' was chosen as the theme for the nation's 200th anniversary celebration for the Declaration of Independence and has since been used as an anthem for American citizens to unite together as an endlessly loving and resilient force.
'Take Me Home, Country Roads' – John Denver
Released as part of his 1971 album 'Poems, Prayers and Promises', Denver's hit country song was a love letter to the stunning landscape and laid-back lifestyle of the rural South. Surprisingly, his co-writers Bill Danoff and Taffy Nivert had never actually been to West Virginia and instead wrote the lyrics about Maryland, later changing the location to better match the rhythm. The song became a hit almost immediately after release, reaching No. 2 on Billboard's U.S. Hot 100 singles chart and remains today a cultural phenomenon, especially amongst West Virginia natives.
"The Stars and Stripes Forever" – John Philip Sousa
This song is often played during 4th of July fireworks. Except for "The Star-Spangled Banner," no musical composition has done more to arouse the patriotic spirit of America than this most beloved composition. Symbolic of flag-waving, it has been used with considerable effectiveness to generate patriotic feeling ever since its introduction in Philadelphia on May 14, 1897
There are, of course, countless other patriotic songs from a whole variety of backgrounds and musical styles. They are all united by one overarching message: what it means to be an American and to demonstrate the core values of our country.
Studio 237 Music Lessons is in Santa Rosa Beach.  Our staff teach: guitar, piano, drums, voice, ukulele, and more. Call 850.231.3199 to schedule a visit or lessons. www.Studio237Music.com
The post Studio 237 Music Lessons: 'Proud to Be an American'  History Behind the Nation's Most Patriotic Music appeared first on South Walton Life | 30A News, Events and Community Information.