Go Raw & Juicy
By Anne Hunter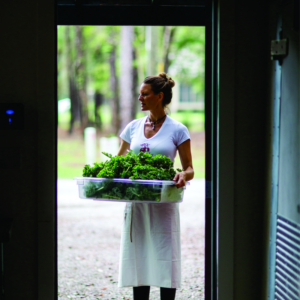 Hungering for an organic juice fix?  Lovers of a health-conscious lifestyle need look no further than the Raw & Juicy airstream in Seaside, situated on the corner of Central Square and 30A. On any given morning, purveyor Jenifer Kuntz, lovingly referred to as "Juicy Jen" by her friends and customers, can be seen on her bustling corner managing the day-to-day business operations of providing healthy food alternatives to Scenic Highway 30A.
The emblem of Raw & Juicy – an artful tree rising out of an Airstream trailer – is imprinted on the local landscape as a symbol of wholesome nourishment. Founded in 2008, Raw & Juicy has been at the center of Seaside's cultural scene for more than a decade of the town's 35 years of existence.  It has been a staple for locals and tourists who seek a 360-degree healthful and sustainable lifestyle while visiting the beach – and one that can be taken home too.
Parked on the main intersection of the burgeoning new urbanist Southern coastal town and outfitted with juicers, blenders and fresh fruits and vegetables, the Raw & Juicy Airstream trailer packs a notable punch. Airstream trailers are part of Seaside's established tradition of repurposing buildings in creative ways, and have become an essential part of its town center. At the northeast corner of Airstream row is Juicy Jen herself; who personifies the lifestyle she cultivates in her business that feels like a virtual welcome center.  In just ten years, Juicy Jen has grown her formidable juice empire into a regionally recognized brand whose products are shipped cross country.
On Saturday mornings, Kuntz organizes some 20+ farmers who arrive weekly to sell their farm–to-table foods at the Seaside Farmers Market. Originally a roadside-stand and open air market, established by Seaside co-founder Daryl Davis in 1981, she re-established the market into a weekly event around the perimeter of the town's amphitheater.
Jenifer's vegan, organic and eco-conscious lifestyle business is woven into the fabric of Seaside alongside the "starchitect"-designed structures throughout the world's first new urbanist town. "It's rewarding to have this platform and to be in the company of visionary creators and masters in their field, to help make a difference in people's health," says the goddess of green.
From her early days to now, Kuntz has expanded her high-end airstream juice joint, known for its fresh juices, smoothies and organic foods to open a second outpost, Raw & Juicy Life, nestled along the walkway to the Coleman Pavilion beach access in Seaside. Resembling a hip west coast mini market, Raw & Juicy Life sells freshly-made bottled juices and smoothies that are crafted in her local commercial kitchen, along with household linens, artisanal-made beach games, and fresh coconut juice served in the coconut.
"Raising a small business up in a new town, is a thoughtfully-planned construct on the part of a willing land owner, architects and town planners," she explains. Raw & Juicy was encouraged and incentivized to expand, and has evolved into being integral to the town's landscape. Her thinking extends beyond food and drink and into a lifestyle that demonstrates clean eating and conscientious living. The proof is in the Raw & Juicy pudding, or, in Juicy Jen's case, raw and vegan key lime pie that tastes, as they say, like nobody's business.