By Heather Bennett
A vacuum is something we all use, especially living in a beach community. Sand gets everywhere. Vacuuming is a must. It is also vital for those renting out our homes to guests. We want guests to feel like our homes are clean and inviting. I spoke to our local vacuum pro, Bob Weichman of Vacuum Center Destin, the premiere vacuum shop of the Destin-Okaloosa area, about his experience and expertise.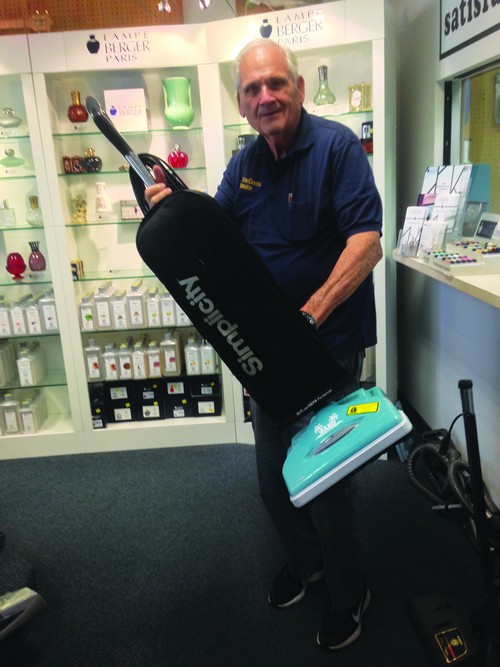 Bob has over 45 years of experience in the vacuum industry. After nine years working for Sears, Bob started his own business with his wife Norma, selling cleaning systems. The business was successful and grew to five stores. Bob eventually got his franchise license and sold four of the stores to his managers so he could focus on his Destin location. "I knew a lot about what I was doing before I got into it. I made very few mistakes because when you own your own business you can't afford to make a lot of mistakes unless you're independently wealthy," said Bob. "I worked for the number one retailer in the world. I knew how to run a retail business."
But why should you buy a vacuum cleaner from Vacuum Center Destin over a retail box store? Quality and Customer service are the two main reasons. Bob realizes that vacuum cleaners are not all the same. He sells high quality vacuums that actually clean the home, and with the use of HEPA filters make your home healthy.
The difference between bagged and bagless vacuums is not just quality, but also cleanliness and health. Bob explained that using a bag type vacuum is like using a tissue when you blow your nose. You isolate the germs and dispose of them. Using a bagless vacuum is like using a handkerchief to blow your nose. You end up spreading and sharing germs with everyone in the house including the cat and dog. A bagless vacuum will pick up dust mite particles like feces and carcasses, but because the particles are so small, they go through the filter and shot back out to the ceiling. It takes 36 hours to settle back down to the floor. "When you get a high filtration HEPA filter type bag, your dusting goes down the tubes. You hardly have to dust anymore," said Bob. You also aren't ingesting all those dust mite particles anymore. He's selling more than vacuums. "I sell healthy, clean homes," stated Bob.
Vacuum Center Destin sells several brands of cleaning systems – Miele, Simplicity and Riccar to name a few. "I like selling quality," said Bob. "I like selling something I don't have to apologize for ever." Not only does Bob sell these high quality-cleaning systems, but they also service and repair them. "Unlike the box stores when we sell somebody a cleaning system we're not done with them. We're just starting with them. We're going to take care of that customer." When you speak with him, you can tell he really loves what he does and loves helping people.
People refer to Bob as a great salesman, but he denies being a great salesman. "I'm a problem solver," said Bob. "I can't solve all your problems, but I can solve your cleaning problems at Vacuum Center Destin."  They are a one-stop shop for your cleaning needs, selling stain removers, grout cleaners, microfiber cloths, disinfectant, and more. "This is what I've spent my whole life doing. I know vacuum cleaners and I know cleaning products."
Selling healthy, clean homes also runs in the family. Bob's son Robert Weichman, Jr. runs Best Vacuum Shop in Houston, and for 35 years Bob's son David worked with him and managed Vacuum Center Destin. David passed away earlier this year in a tragic car accident.
If you are interested in learning more about the products Bob has at Vacuum Center Destin, I urge you to stop in at their location at 36054 Emerald Coast Parkway. Bob would love to give you a demonstration on how these cleaning systems work, especially when it comes to picking up sand.
The post All Vacuums Are Not Created Equal appeared first on South Walton Life | 30A News, Events and Community Information.
South Walton Life | 30A News, Events and Community Information South Walton Life | 30A News, Events and Community Information READ MORE