By Chris Balzar, Emerald Coast Energy Solutions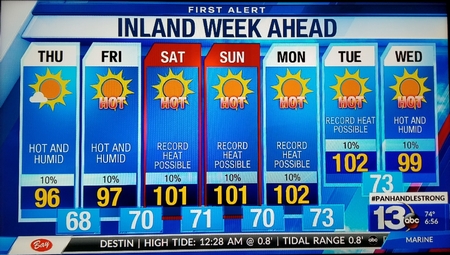 If you do a search for "things we insulate," you will see the majority of sites and images are of attic spaces, walls and windows. However, we insulate much more than our homes. In fact, we are constantly looking for that right beach cooler or cup to keep our drinks and snacks cold and cool. YETI has become very popular and on the scene of just about every beach, boat or fishing outing. Just look around; if don't own a YETI, your neighbor most likely does. There is a video on YouTube about what's inside a YETI and has more than 7.2 million views. That's more views than the entire population of Tennessee and that's just one video. It's no secret we care about insulating things and pay a little more for quality and efficiency. So, why when it comes to our biggest investment, our homes, we fall short of upgrading our home's efficiency and insulation?
A Former U.S. President once said during a press conference on renewable energy that Insulation is sexy stuff and that if you haven't upgraded your home yet, it's not just heat or cool air escaping. It's energy and money that you are wasting.  Based on a study conducted by NAIMA, the majority of U.S. homes are under insulated, wasting energy and money and decreasing comfort for the homeowners. Unless your home was specifically built for energy efficiency, you can benefit from energy upgrades like ECO insulation, radiant barriers and attic air sealing.
Dr. Levy, Professor of Environmental Health at Boston University, stated that if all U.S. homes were fitted with insulation based on the 2012 IECC (International Energy Conservation Code), residential electricity use nationwide would drop by 5% and natural gas use by more than 10%. That's an impressive number and a positive impact on our environment.
So, let's talk cost. I know getting an energy upgrade for your home costs more than a cooler or a cup. On average, an energy upgrade today costs around what a nice piece of furniture costs. The difference is, the furniture can start to lose its value the moment it is delivered. Adding an energy upgrade immediately starts to save you money and increases comfort. Not only does adding insulation increases the value of the home, a full return of the cost can be recouped in a few short years. The furniture, after several years, may not have much value.
Your energy upgrade continues to add value to your home with increased comfort. I don't know if I would call adding insulation sexy, but I do know adding insulation saves you money, increases your comfort and has a positive impact on the environment. So, the next time you are putting ice in your cooler or sipping something refreshing from your cup, think about getting an energy upgrade for your biggest investment and remember, our most sustainable energy source is not Solar, Hydro or Geothermal—it's you!
Chris Balzer is founder and president of Emerald Coast Energy Solutions (ECES) and resides in the Santa Rosa Beach area with his wife and three Children. For more information on how to save this summer and become energy efficient, schedule an inspection by calling (850) 588-2870, visit www.trusteces.com or email wecare@trusteces.com and Beat the Heat!
The post Energy Tips: Things we insulate appeared first on South Walton Life | 30A News, Events and Community Information.
South Walton Life | 30A News, Events and Community Information South Walton Life | 30A News, Events and Community Information READ MORE