June brings the start of summer to Topsail Hill Preserve State Park. As the waters in the Gulf of Mexico warm, more people enjoy the beach and snorkeling the artificial reef just off the shoreline. As the days grow longer, many explore  the 15 miles of trails throughout the park. June also brings the arrival of Royal Terns, Least Terns and endangered Snowy Plover chicks to the beaches of the park. These tiny creatures, no bigger than a cotton ball, will be spending the month with their parents growing and exploring the beach wrack before fledging their nest. Their defense mechanism is to stop and lie flat on the beach which makes them blend nicely with the sand. This also makes them very hard to see, so please watch your step on the beach. Also, if you've ever wondered why dogs aren't allowed on the beach in the park this would be part of the reason why. A dog's presence on the beach can cause the chicks to get separated from their parents, impacting their chances of survival. Everyone plays a role in the environment so work together to increase the Snowy Plover chicks' chances of survival!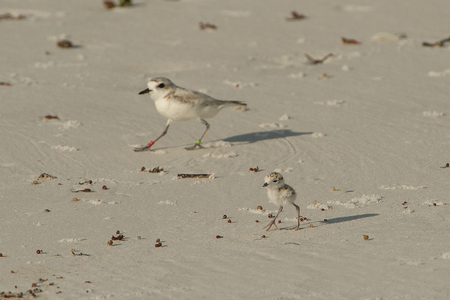 The park's annual Kids Fishing Workshop is also this month on June 15, 2019 from 10am – 2pm. Children, ages 3-17, with their parents, will be able to learn about fish, ways to fish, places to fish and how to fish through fun interactive stations. They will also learn about ways to minimize any potential negative impact on the environment while fishing. For instance, using a reusable water bottle cuts down on the amount of single use plastics that end up in the Gulf of Mexico and the ocean.The first 300 children to work their way through all the education stations will receive a rod and reel and water bottle to take home courtesy from the Fish Florida license plate grant program. For more information about this event and all programs at the park please visit www.floridastateparks.org or follow the Friends on Facebook @FriendsofTopsailHillPreserveStatePark.
If you're looking for a way to give back, the park is looking for locals to help at the Ranger Station to welcome visitors and campers to the park. Whether you are available two hours a month, two days a month or one day each week, it doesn't matter. Your friendly face and welcoming smile can help park visitors enjoy the park that much more and inspire them to be stewards during their visit. If you're interested in volunteering call 850-622-2309.
Make sure to enjoy all that Topsail Hill Preserve State Park has to offer including the beach, hiking, programs or volunteering. See you soon!
The post June 2019 Topsail Hill Preserve State Park Update appeared first on South Walton Life | 30A News, Events and Community Information.