Live Every 2nd Monday at 30A Songwriter Radio
By Jasmine Carroll
Place yourself around a campfire. Bugs chirping and feet stomping. Surrounded by a family made of strangers with music dancing through the air. The voices traverse time, singing the lonesome tunes of their ancestors. Songs a century old, rooted in the deep Kentucky Hills in the midst of coal mines. Joy overcomes you as your feet start stomping out a beat that matches your heart. Home brews and dances are passed around freely as we all watch the performers mash out a tune by Bill Monroe and the Bluegrass boys. Joy overcomes you as you howl along with the jam.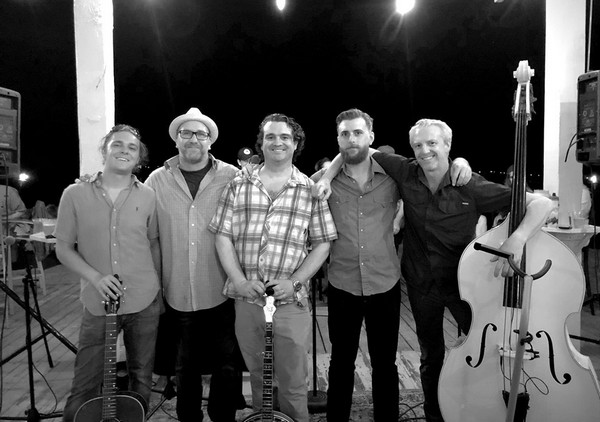 This is the timeless feeling that the Maverick Shine Boys bring to the stage. This local five piece bluegrass band is a site to be seen. With members from town favorites; The Waco Ramblers and Dismal Creek, The Maverick Shine Boys pick one out like no one else. Chris Reid (stand up bass and vocals) Chris Willman (lead guitar and vocals) Ricky Stanfield (mandolin) and Seth Galloway (banjo and vocals) create the band behind showman, Jeremiah Campbell (guitar and vocals) as they turn out high energy songs from long ago.
Bluegrass music has a history of being the music of the working class. It was music  for the community. After a long day's work, people gathered together to play songs and share a moment. Bluegrass music originated in the Appalachian mountains, and much like the crystal that makes up our white sand beaches, bluegrass too reached our beautiful town. Ask any local and you will be told countless stories of the good ol' day's down in Grayton beach. Sunday Fundays spent with bloody Mary's at the red bar with Dread Clampit and closed out with jager shots and dancing with the Waco Ramblers at Shortys. Maverick Shine Boys are here to transport you to times before, with new memories to be made and lost. 30A Songwriter Radio is proud to annopunce you'll be able to find The Maverick Shine Boys performing an old time radio show, right here, at 30A Songwriter Radio, every second Monday of the month. Join us at 7:00 every second Monday to have a hoot and hollerin' time in The Coffee Shop with The Maverick Shine Boys!
The post 30A Songwriter radio Presents Maverick Shine Boys appeared first on South Walton Life | 30A News, Events and Community Information.