By Michelle Farnham
Just as the summer tourist season has begun to cool off on the Emerald Coast, the Eggs on the Beach cooking competition will be firing things back up! Slated for Saturday, September 29th from 10 a.m. to 1:30 p.m., this gathering of Big Green Egg cooking enthusiasts promises to fill bellies and inspire home grillers.
Susan Kiley and Wayne Paul – co-owners of Bay Breeze Patio and retailers of the Kamado-style cooker – are gearing up for their sixth annual EGGfest.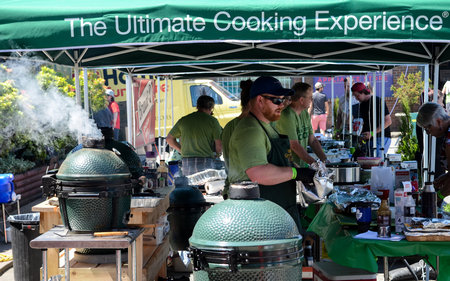 "Regionally around the country, fairly large Big Green Egg dealers started having their own EGGfests, but we like to tell people, 'This is not your grandfather's EGGfest,'" explained Kiley, stressing that their competition features truly gourmet food. "Often times for these EGGfests, you go to the state park and you have 20 guys making pulled pork. Ours is everything but pulled pork!"
What might ticket-holders find at one of the 30-plus stations located throughout the festival, held on the driving range at Seascape Resort? Kiley listed some of the more memorable bites from years past, including smoked dates wrapped in bacon with cream cheese, triggerfish tacos, and smoked pork belly.
Some top contenders from years past include Saltwater Restaurants Inc., The Gulf Restaurant of Okaloosa Island, and The Rotary Club of Destin. Attendees will also enjoy live music, a charity raffle, a kids area sponsored by Food For Thought, big screen TVs to watch football courtesy of ENCO Electronics, smoked cocktail seminars from Knob Creek, and live Big Green Egg cooking demonstrations.
The fest accommodates up to 34 teams, comprised of restaurant crews, non-profit groups, and backyard grilling enthusiasts.
"It's a pretty diverse group with a lot of competition among the teams," Kiley said. "Last year we had these firefighters from Louisiana who happened to be here on vacation at Seascape. They called and said, 'We don't know what this is, but it sounds like fun. Can we enter?' They ended up winning one of the categories and had a really good time!"
There are plenty of locals involved in the competition as well, and the generosity they display is impressive.
"We had a team last year called Sacred Que, with some people from the medical staff at Sacred Heart. They ended up winning People's Choice, and the prize was a Big Green Egg. They turned around and donated it to one of the non-profit teams so that team could use it as a fundraiser. I was like, 'This is why we do this stuff!' It was pretty awesome," Kiley admitted.
The 2018 EGGfest raised $36,000 for local charities, with more than $100,000 over the local event's history. Of that money, $6,000 is earmarked for prizes for the top three non-profit teams. The balance gets donated to the event's two charities: Food For Thought and Fisher House Foundation.
While the affair has certainly been successful at generating funds for good causes, Kiley made sure to point out their EGGfest is "a food festival that happens to raise money." They also cap attendance at 800 tickets.
So what's so special about a Big Green Egg that it deserves its own festival?
"The Green Egg is a 100 percent ceramic cooker and it's almost impossible to make a mistake with it," Kiley explained. "It's a grill, an oven, and a smoker. You can't overcook on it; you can't undercook on it. It truly has its own cult following."
For more information on EGGfest or to purchase tickets, visit www.eggsonthebeach.com. Tickets can also be purchased by cash or check at Bay Breeze Patio, 32 Forest Shore Drive, Miramar Beach. If any tickets remain, they can be purchased at the door the day of the event.
The post Big Green Eggheads unite Sept. 29th appeared first on South Walton Life | 30A News, Events and Community Information.