By Chris Balzar
I once heard that the definition of maturity is deciding to do things you don't want to do because they need to get done. If that's true, then most of us are super mature. We all have our own lists of things we don't want to do but need to get done. Vacuuming comes to mind, that's why robotic vacuums have become so popular. I wish they would invent a robotic shower and toilet cleaner. Folding laundry falls into many of our lists.  We taught our three children how to sort, fold and put away their own laundry; we called it a life skill. Laundry is no one's favorite either, however, we wash and dry several loads each week. Washers and dryers are among the costliest appliances to operate so it's worth taking steps to reduce energy use while using them.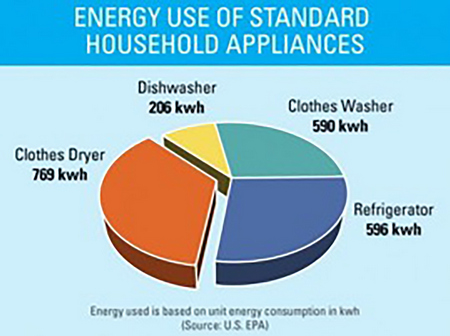 Here's how your washer and dryer compare to two other high energy users in your home, and some things you can do to save in the laundry room to reduce wear and tear on clothes.
Wash with cold water.
Using cold water instead of hot can cut a load's energy use by more than half. Many detergents clean just as well in cold as they do in warm or hot water. So save the hot water for your shower.
Wash full loads.
Your washer will use about the same amount of energy no matter the size of the load, so fill it up.
Dry right-sized loads for your machine.
If the dryer is too full, it will take longer for the clothes to dry. Loads that are too small can also take longer to dry, plus you spend more per item when drying only a few things.
Use dryer balls.
Wool or rubber dryer balls will help separate your clothes and get more air to them, cutting the drying time. The wool balls are said to absorb some moisture, further cutting drying time.
Switch loads while the dryer is warm.
This will allow you to use the remaining heat inside of the dryer for the next cycle.
Clean the lint filter on the dryer.
The dryer will run more efficiently and safely. If you use dryer sheets, scrub the filter once a month with a toothbrush to remove film buildup that can reduce air circulation.
Use the high-speed or extended spin cycle in the washer.
This will remove as much moisture as possible before drying, reducing your drying time and the wear on your clothes from the high heat of the dryer.
Use lower heat settings in the dryer.
Even if the drying cycle is longer, you'll use less energy and be less likely to over-dry your clothes.
Dry towels and heavier cottons separately from lighter-weight clothes.
You'll spend less time drying the lighter-weight clothes.
Check with your utility company about time of use rates
Utility companies offer reduced kWh rates everyday during off peak times, almost by half. Check with your utility company when off peak hours are and use high demand appliances during those times, saving you money.
Chris Balzer is Founder and President of Emerald Coast Energy Solutions and resides in the Santa Rosa Beach area with his wife and three children. For more information on how to save and become more energy efficient call (850) 588-2870, visit www.trusteces.com or email wecare@trusteces.com and beat the heat.
The post Energy Tips: To Do or Not to Do appeared first on South Walton Life | 30A News, Events and Community Information.