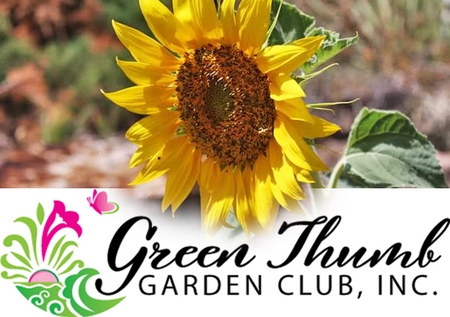 At the Green Thumb Garden Club, Inc. located in Walton County, we gardeners believe the old adage by Audrey Hepburn, "To plant a garden is to believe in tomorrow." The Green Thumb Garden Club is a member of the Florida Federation of Garden Clubs, Inc. and the National Garden Club, Inc. Deep South Region. Each year, the GTGC participates in the annual American Pride Landscape Awards. This year in the spring before hot weather set in, many landscaping areas were judged; we have a number of categories, and we also have first, second and third place winners.
The first prize winners were treated to the royal treatment at a luncheon hosted by the club at their September meeting, and they also received a certificate and a stone marked, "Green Thumb Garden Club Award" for their particular category. At the meeting, a power point presentation was shown as created by Lisa Ermini and presented by Larry Williams, a Walton County Horticultural Agent. Design and Elements considered are "color" (there is more than one shade of green); originality of design; plants used appropriately, and that "WOW" factor. Nominations are selected by members of the garden club, but a Master Gardener or Horticultural Agent aids in the final selections.
Ten landscaped yards or areas won in the first place category. Mrs. Jo Stewart of Sandestin won "Yard of Merit" for her beautifully landscaped yard back and front. Mrs. Kathy Edge of Santa Rosa Beach won for her native landscape on the bayou. The Large Landscape Award went to Donna and Ed MacDonald of Santa Rosa; Small Landscape went to Paula and Burl Marohl of Freeport, and Lois and Bill Crane of Santa Rosa for their DIY yard.. all beautiful landscaping. We were pleased that Grand Boulevard at Sandestin and The Henderson both won first place for their beautiful Commercial Property. If you have an interest in the Green Thumb Garden Club, Inc., please contact our membership chair Jan Shuttleworth at jan.shuttleworth@cox.net or Betty White, President, bettylwhite101@gmail.com.
The post Green Thumb Garden Club Annonces American Pride Landscape Winners appeared first on South Walton Life | 30A News, Events and Community Information.
South Walton Life | 30A News, Events and Community Information South Walton Life | 30A News, Events and Community Information READ MORE