An Alternative Approach to Healing through Energy Medicine 
By Melanie Barrett 
When Max and Vickie Green realized something was wrong with their 14- year-old schnauzer, they took Calle to the vet. She was unable to hold her head upright, and seemed to wobble when she walked. The vet told the owners that Calle had suffered a vestibular attack.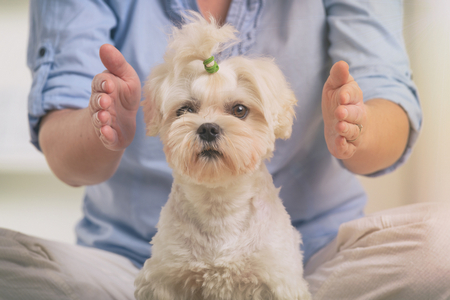 According to petmd.com, canine idiopathic vestibular disease, which is also sometimes called "old dog disease" or "old rolling dog syndrome," can be very scary for pet parents. To the untrained eye, the symptoms may mimic serious, life threatening conditions such as stroke or a brain tumor.
The good news is that this condition, which is described by veterinarians as fairly common, typically disappears in a matter of days. Some symptoms of the disease may include: head tilt, which may be slight to extreme, acting dizzy and falling down, nausea and/or vomiting, and dogs may also turn in circles or roll around.
Vickie had heard of my 30a swim dog therapy, and thought that might help. I realized that Calle was unable to swim because she kept moving from side to side. I told her about energy sessions to help with Calle's issue.
I'm a Healing Touch for Animals certified practitioner. HTA is an energy field therapy that supports the body to self-heal, according to healingtouchforanimals.com. The techniques used in the program help balance and clear the body's energy systems. This allows optimum physiological responses to stabilize and support the body, providing a sense of well-being. Using clear intent with the application of each technique, the practitioner assists with the stability of the recipient's energy field and healing occurs. Healing Touch for Animals techniques use light touch or near body touch to clear, balance and stabilize the animal's energy system to promote healing. The techniques for animals are used as a cooperative adjunct with traditional veterinary medicine to provide the very best healthcare for our animals.
HTA assists with: overall well-being, health issues, healing from accidents and injuries, pain control, disease prevention, trauma, anxiety and stress reduction, separation issues, grief, behavior modification, competition, performance training, focus, and support during euthanasia.
Healing Touch for Animals techniques can provide pain relief, accelerated wound healing and even improve the immune system function. I have been using the energy medicine for 4 years, and I have seen dogs/animals healed, or their lives extended.
Vickie Green is sold on the treatment. "What a wonderful thing she did for our girl. We could see results after only two treatments," Vickie said. "Calle went weekly for several months. I highly recommend this treatment. Calle is 14 and is doing amazing!"
I own 30aswimdog.com, a canine aqua therapy modality. I also holds two certifications in Animal Aromatherapy, which is the use of essential oils for animals; I'm a dog behaviorist through emeraldcoastdogbehavior.com, and a Healing Touch (for humans) apprentice, and I've completed four out of five levels. Please contact me at 850-218-0476 for more information.
The post Introducing "Healing Touch" for Animals appeared first on South Walton Life | 30A News, Events and Community Information.
South Walton Life | 30A News, Events and Community Information South Walton Life | 30A News, Events and Community Information READ MORE