By Rita Sherwood
Not too Shabby Two, is that what I'm hearing? I asked Marisol Gullo of Not Too Shabby, as we sat outside at Black Bear Bread Company and sipped on our coffees.
"Is that the word on the street?" she asks with a giggle. "As a matter of fact, yes that's what's happening, we are opening our second store at 30Avenue in Inlet Beach."
"How do you feel about being so far from your store in Miramar Beach?" I asked.
Marisol thought for a moment and said, "You know, I live on 30A, so it's not a far stretch for me. As a matter of fact, when we first opened our store in 2011 we were in Santa Rosa Beach, and stayed there for a few years until the building just couldn't contain our inventory any longer."
"So I guess it would be some kind of a homecoming for you then," I teased.
"Yes, just like Pretty in Pink," she says laughing. "But honestly I feel so blessed to be able to have my store, and service our clients in the design of their most precious possession, their homes."
Marisol pauses for a moment and says, "I've been here since 2001, and like everyone who comes here, I had a little piece of my heart stolen. And that's because this is such a special place, with a special beach, a special beauty, and special people. So I try to emulate my art and furniture in the same way."
She goes on to say, "How could someone explain to you the beauty of our area without ever being here. Why would a furniture manufacturer produce furniture for .0001% of us who live in this secret little spot?"
"I don't know,"  I said as I thought about it.
"They wouldn't," she said. "And even if they did, how would they know our look? It's so specific to our area. I've had the honor of growing with our town and really becoming a student of our area's decor, so when I design the furniture that we build at our store, I have a very clear vision of what I want it to be. And half of what we do is custom orders."
"What does that mean?" I asked.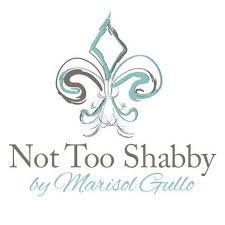 "We build and finish custom size furniture for our clients, like dining room tables, coffee tables, headboards, end tables and more," Marisol says with a smile. "So the best part of what I do is help someone else put together his or her own design."
"Yes, your finishes are exquisite," I said. "What exactly are you doing to make the furniture look so coastal?" I asked.
"Wel, that is what really sets us apart," she says.
"Yes, I've seen many people build a bed or a table, but I've never seen anyone do these finishes. You were also the 2017 South Walton Artist of the Year, correct?" I asked.
"Yes I was, which was a tremendous honor, considering how many brilliant artists there are in the area," Marisol says.
"Well that certainly makes sense from looking at your beautiful furniture, because it's also very artistic," I said.
Be sure to check out Marisol's second location of Not Too Shabby, located at 30Avenue, 12805 U.S. Highway 98 East, Inlet Beach.
The post Not Too Shabby Opens at 30Avenue appeared first on South Walton Life | 30A News, Events and Community Information.