By Susan Benton
For as long as my memory can recall, my family has eaten the same breakfast every Christmas morning- my mother's savory egg strata, warm homemade cranberry bread, and my dads sausage balls.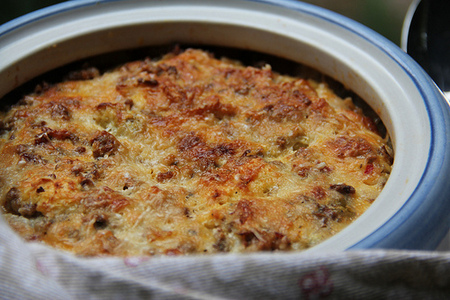 The strata, essentially a savory bread pudding with eggs, sausage, and cheddar cheese, is made the day before, and easily baked on Christmas morning. My dad, donning the red pajamas he wears each year, wakes up early to turn on all of the Christmas lights, and the traditional holiday tunes. The rest of us rumble out of bed, and make our way around the tree, nibbling on generational recipes of sweet and savory delights while we peek into our stockings, followed by the opening of gifts one at a time. If you're a local or visiting South Walton, I recommend visiting the Seaside Farmers Market for your fresh eggs in this dish, as well as stopping by Ocheesee Creamery for your butter, milk and cheese needs. You will also find wonderful breads for your holiday meals.

Serves 4 to 6 people.
Ingredients:
8 slices bread, preferably an Italian style deli loaf, cut 1/2 of an inch thick
1 pound plain, sage or hot pork sausage, your preference
1 teaspoon prepared mustard
1  cup shredded sharp cheddar cheese
6 eggs, slightly beaten
1 and 1/2 cup whole milk
3/4 cup half and half
1/2 teaspoon ground sea salt
1/4 teaspoon pepper
Dash of nutmeg
1 teaspoon Worcestershire sauce
Dash of cayenne
Preparation:
Place bread  into a 10 by 16 baking pan, sprayed with non-stick spray or rubbed with butter. Brown sausage and drain off any excess fat. Stir in mustard, and spoon sausage evenly over bread. Sprinkle with grated cheese. Combine remaining ingredients (eggs, milk, half and half, salt, pepper, nutmeg, cayenne and Worcestershire sauce), pour over cheese and sausage.
Bake at 350°F for 30 minutes.
Note: This is best if made the day before and refrigerated overnight. Warm to room temperature before baking.
Also, a pound of bacon cooked and crumbled, or 2 cups of  good ham chopped, can be substituted in the recipe.
The post Recipe of the Month; Christmas Morning Strata appeared first on South Walton Life | 30A News, Events and Community Information.