by Emily Rose Proctor, SoWal Community Chaplain
Not everyone you meet will be feeling "merry and bright" this holiday season. For some, it will be their first Christmas following the death of a loved one. For others, going through a separation or divorce, facing a new diagnosis or medical condition, having a faith crisis, or other major life changes can risk "ruining" a time of year once held dear.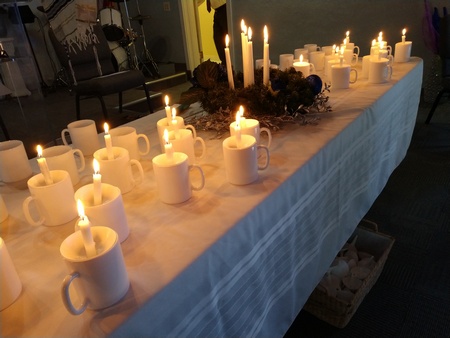 The good news is that, if you are one of those people, YOU ARE NOT ALONE, and there are resources to help you cope. Recently, retired counselor and thanatologist, Peggy Koblenzer, a part-time resident of South Walton, spoke to members at Christ the King Episcopal Church and Caring and Sharing of South Walton's Communities of Transformation program about how to be proactive in your approach to the holiday season after a loss. Some of her advice included the following tips:
Have a plan. Think through the different aspects of the holiday, from shopping to decorating to religious and family rituals, and decide with other family members how you want to approach them. Peggy had a great holiday checklist for this purpose, that I am happy to share upon request!
Give yourself permission to do some things differently. This acknowledges that, because of your loss, things ARE different. It can remove some of the most painful "triggers" of your grief and pave the way for new traditions for your new reality.
If the loss is of someone that you love and want to remember, decide how you want to include the memory of that person in how you celebrate.
Resist the tendency to isolate. Identify those people who can best support you during this time, and include them in your planning.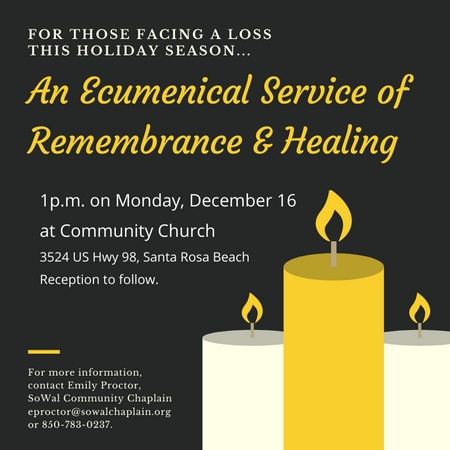 In addition to this advice, I would also lift up that there are several local support groups that can be a resource to you, and which you can find listed at sowalchaplain.org/resources/supportgroups. Another tool that I often use with individuals is called a Wellness Recovery Action Plan, which can be helpful for those grieving, or in recovery from an addiction or mental illness. You can learn more about it at https://mentalhealthrecovery.com/. In a crisis, the 2-1-1 Panhandle Helpline (850-892-4357) can connect you with an on-call mental health professional at anytime.  And the Mental Health Association of Okaloosa & Walton Counties (http://mhaow.org/) can help connect you to professional counselors practicing in your area.
Finally, several local ministers are collaborating again to offer an Ecumenical Service of Remembrance and Healing at 1 p.m. on Monday, December 16 at the chapel of Community Church (3524 US Hwy 98, Santa Rosa Beach).  The service will not include a sermon or communion, but will have a time to light a candle in remembrance of a loved one and/or to request individual prayers for healing from the pastors in attendance. A brief reception will follow. If you or someone you know is facing a loss this holiday season, we hope you will join us. Remember, friends don't let friends grieve alone!
The post Resources for Coping with Loss this Holiday Season appeared first on South Walton Life | 30A News, Events and Community Information.