By Mark Stanley and Tracy Steely
Emma has one of the most fun careers around – she makes popsicles! If you have been in Walton County for a while, you may be familiar with Swell Pops – the best pops around.
Emma was born and raised in Ft. Walton Beach. She went to college in Dallas and taught kindergarten after she graduated. But Emma began to feel the sense of wanting to come back to her home. "All my family is in the Panhandle, except one sister who lives in Atlanta. I just wanted to come back home."  Eventually, she did just that. Emma and her husband moved back to the area and she landed a job teaching third grade at Destin Elementary School. But after some time, things fell into place for Emma and her career path changed. Her dream came true and she and her husband became owners of a popsicle company called Swell Pops.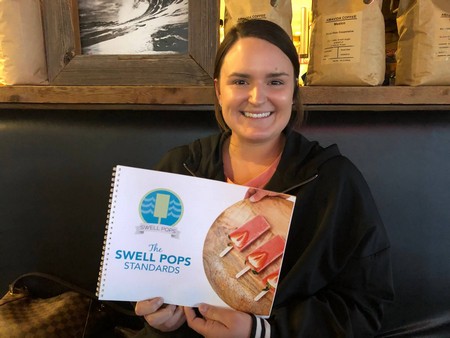 So, did you always want to make popsicles? "Well, I was in Montgomery with my sister and after dinner she said, 'Hey, let's get a popsicle!'  Usually, you get ice cream after dinner, but I went with her to Steel City Pops, and I fell in love! I fell in love with the concept and the popsicles and I wanted to start a company of my own."
How did Swell Pops get started?  My brother and I had some dear friends, David and Haylee Huffman. They started the company about three years before we took over.  My brother went to lunch with David one day and David mentioned that he was ready to sell Swell Pops.  My brother told me about it and my husband and I bought the company."
What are Swell Pops? "Swell Pops are gourmet popsicles. We use local sources as much as we can, such as the Honey Hutch, and we buy fruit from local farm markets. We use local ingredients to give the pops a sense of home. They are all natural and do not contain chemical preservatives, genetically modified organisms, hydrogenated oils or artificial colors or flavors. Just simple, natural popsicles."
Where do you make Swell Pops?  "I rent a commercial kitchen. In the mornings I make the popsicles, and in the afternoons, I deliver them to our clients.  We have gotten so busy that I have hired two ladies to help me make the pops, so I am freed up to deliver. We make about 500 popsicles every morning!"
Where can we buy Swell Pops? "Right now, I mainly deliver to wholesalers from Watersound to Navarre. We also take care of events and catering. We provide Swell Pops for weddings, birthday parties, showers, corporate events, music festivals, etc. You can even order a box to keep in your freezer at home."
What is the best-selling flavor?  "Hands down it is Cookies and Cream. Everyone loves that flavor from children to grown men.  Strawberry Lemonade and Mango Pineapple are close seconds.  We have about 23 flavors so far and the list is growing. We just used my great-grandmothers recipe for banana pudding to make one of our newest flavors, it's great!"  If you don't have time for breakfast, you can grab a yogurt parfait popsicle. It is made with Greek yogurt, honey, fresh fruit and granola."
What do you like about Walton County? "I really love the local people. They are good people. What is great about this area is that everywhere you go you see people you know, and at the same time you can meet new people."
You can check out all the delicious flavors on their website www.swellpops.com.
Tracy Steely and Mark Stanley are the hosts of a community website called The Faces of Walton County. The project aims to showcase the diverse residents of our community, one Face at a time. To nominate someone for an interview visit www.thefacesofwaltoncounty.com or call Tracy at 850-803-9822.

The post Faces of Walton County: Introducing Emma King appeared first on South Walton Life | 30A News, Events and Community Information.
South Walton Life | 30A News, Events and Community Information South Walton Life | 30A News, Events and Community Information READ MORE